How to Quickly Create Pretty Links Anywhere Using a 'Bookmarklet'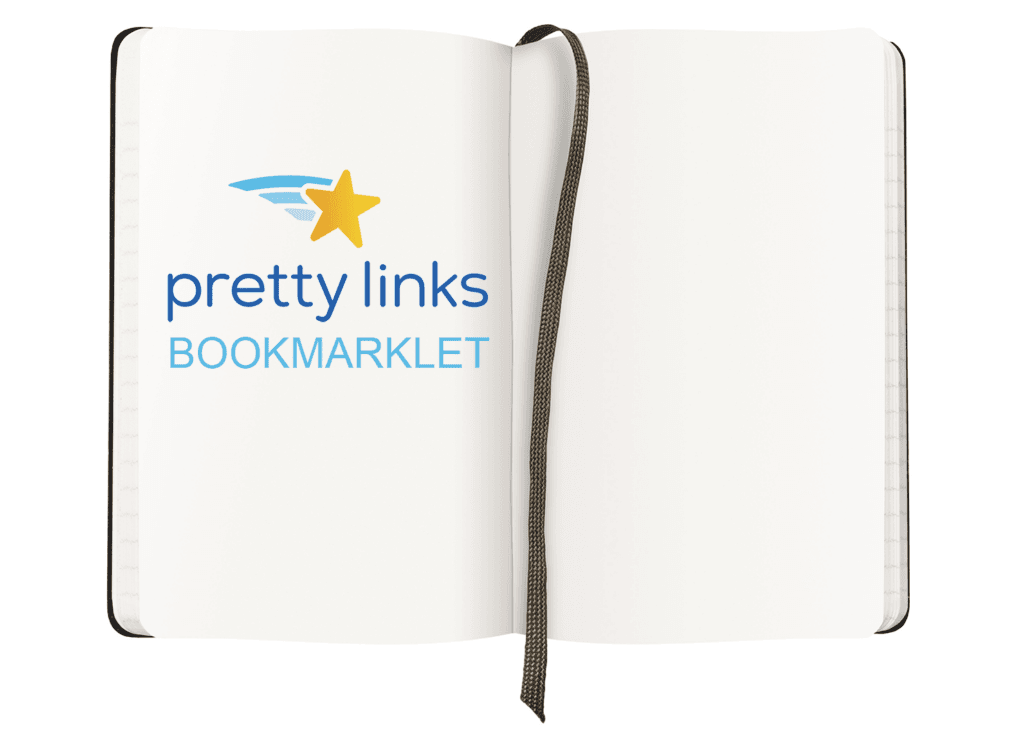 Using the Pretty Links plugin to shorten links is a simple, intuitive process. However, the standard method does require you to access the plugin in the admin dashboard. This can be time-consuming, especially if you want to create a lot of pretty links quickly.
Fortunately, there's a faster, more efficient method you can use. Thanks to the Pretty Links 'bookmarklet' feature, you won't need to access the admin dashboard at all to create new shortened links. In fact, you can generate pretty links from any web page, right in your browser.
In this article, we'll show you what a bookmarklet is, and explain how the feature works within Pretty Links. We'll also explore how you can create your own, customized bookmarklet. Let's get to work!
What a Bookmarklet Is (And How It Works)
If you're unfamiliar with the term, a bookmarklet is a type of bookmark that you can add to your web browser. While a standard bookmark only contains a simple URL, bookmarklets include JavaScript code. This enables you to perform an action on the current page when you select the bookmarklet from your browser window.
One example of this feature in action is the bookmarklets created by Pinboard. This is a place where you can save websites to a personal archive, and it uses several different bookmarklets to make that process easier. They enable you to add sites using a popup, bring up a tag cloud, or even open a random item you've previously saved: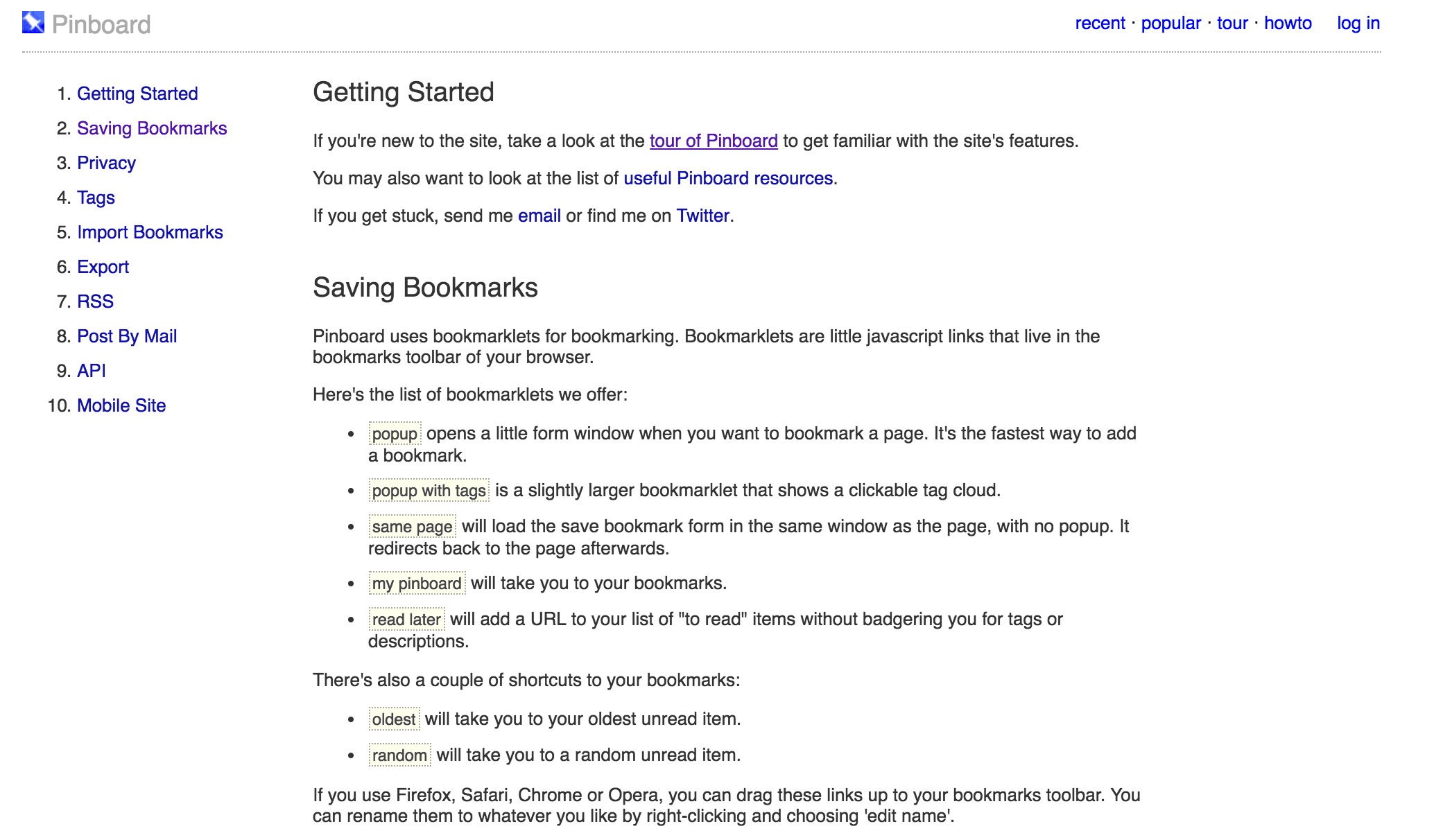 All you have to do is add one of these links to your browser's bookmarks. Then, you can click on it to run the associated code and perform its task. This kind of bookmarklet is simple to use, and can be adapted to a wide range of applications.
Why You Might Want to Use a Bookmarklet to Create Pretty Links
As we mentioned earlier, Pretty Links offers its own bookmarklet feature, which you can use to create shortened links straight from your browser. This means you can generate pretty links on the fly, and you don't have to access the plugin in your admin dashboard every time.
What's more, links generated using a bookmarklet are no different from those you create through the Pretty Links plugin. When you use a bookmarklet, your new link will be saved and added to your list within the plugin's settings. As you'd expect, these links can be tracked and reused, and come with all the other usual benefits of pretty links.
The best part is that you don't even have to compromise on customizability. You can specify the default settings for a bookmarklet, which will be applied to all links created with it. If you wanted, you can even build multiple custom bookmarklets, all with different settings. This lets you generate different types of links as needed.
All of this means that you can create pretty links directly from any site, using any browser, at any time. You don't have to sign in to your admin dashboard, or even access your site at all. This saves you a lot of time, especially if you create a lot of pretty links.
How to Create a Pretty Links Bookmarklet
Now that we've explored the benefits of using a bookmarklet to shorten links, let's look at how to actually go about doing it. As with many features of Pretty Links, this is a fairly simple process.
Naturally, if you have not yet downloaded and installed the Pretty Links plugin, you should do so first. After that, navigate to Pretty Links > Tools in your admin dashboard: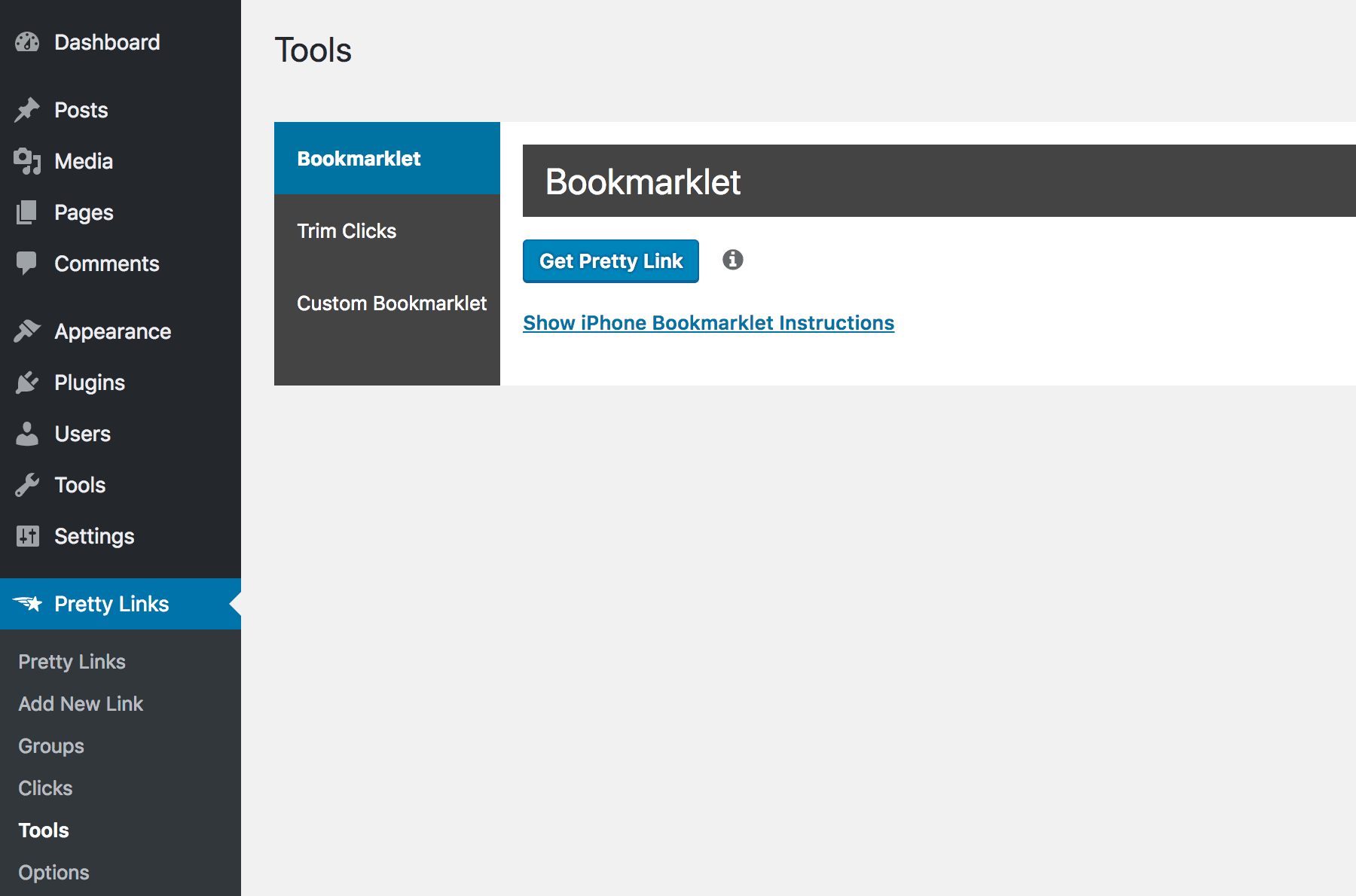 Here you can create two types of bookmarklet. First, you can generate a static bookmarklet, which uses the standard default settings to create links: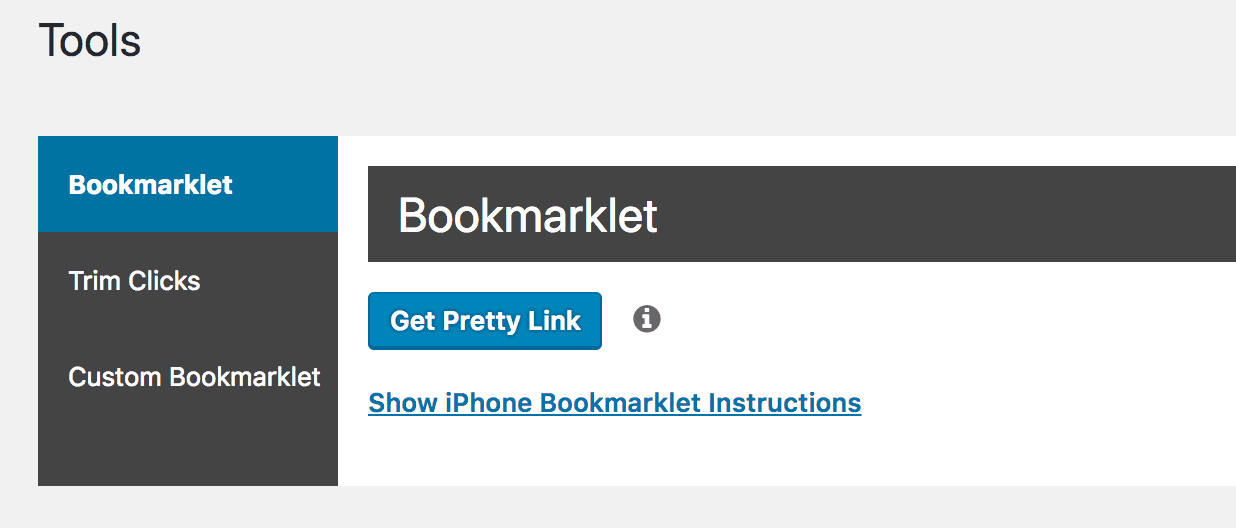 All you need to do is click and drag the Get Pretty Link button to your browser's toolbar, to add it as a bookmark.

However, if you want to customize your bookmarklet, you can do that from the Custom Bookmarklet tab: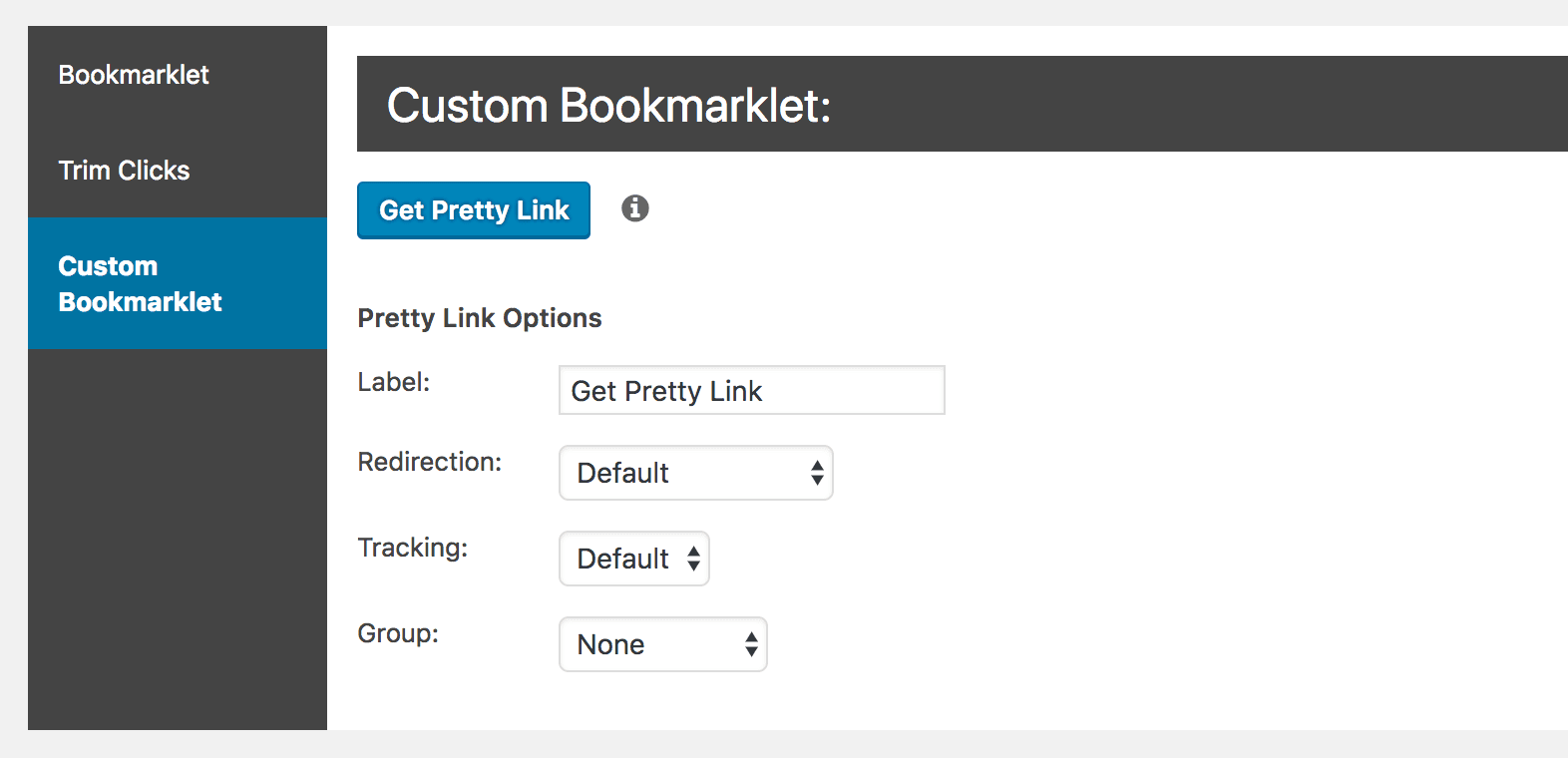 Here you can specify the links' redirection type, whether or not they should be tracked, and if you want to add them to a link group. Once you've made your selections, you can drag the Get Pretty Link button to your browser toolbar as before.
It's worth pointing out that you can add as many bookmarklets as you want to your browser. You could theoretically create dozens of them, each with its own combination of settings.
For now, once you have your first bookmarklet ready, let's give it a spin. All you need to do is to open any page and click on the bookmarklet link in your browser. You'll see that the page changes to show you the pretty link you've just created: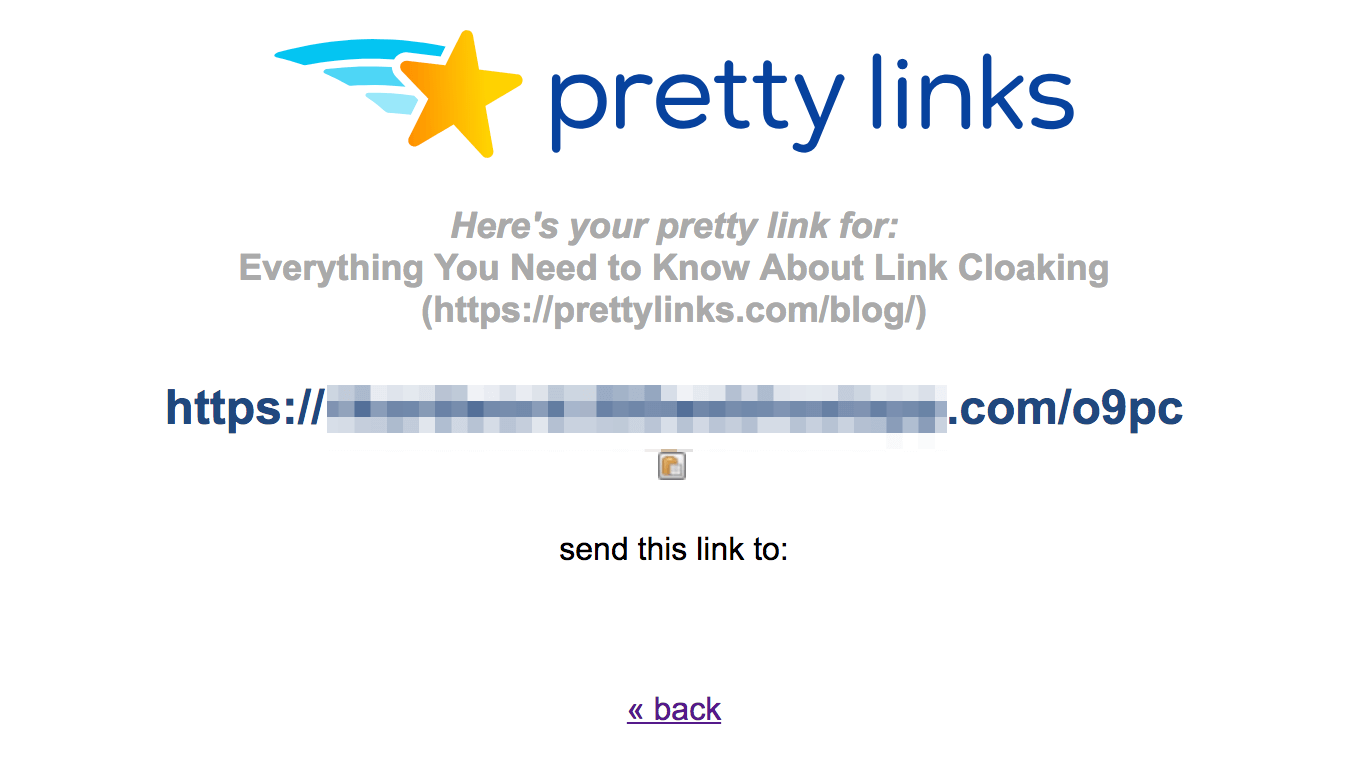 You can also view and edit this link from your list, which you can find by navigating to Pretty Links > Pretty Links in your dashboard: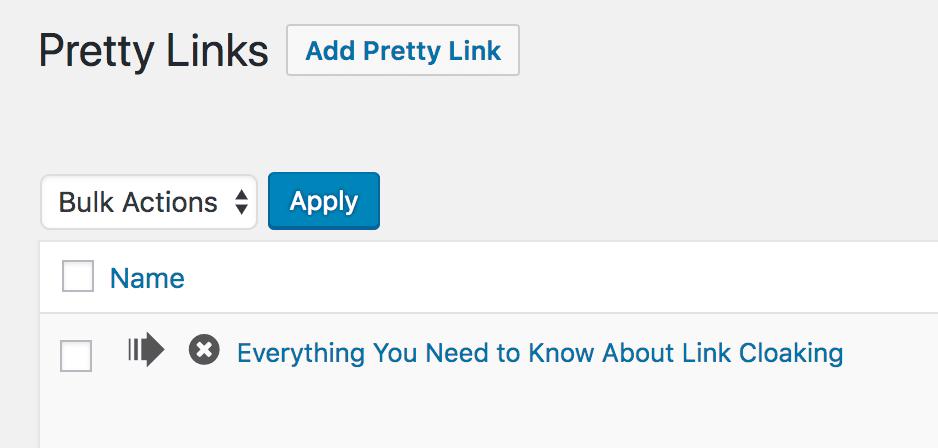 With that done, you've successfully created a Pretty Links bookmarklet! You can now quickly and easily shorten links, regardless of where on the internet you find yourself.
Conclusion
While using Pretty Links is already easy, it might be even more intuitive than you realize. By using the bookmarklet feature, you can create shortened links from any page, directly in your browser. This makes it fast and simple to create pretty links at any time.
In this article, we've discussed the general concept of bookmarklets, and explained how the one offered by Pretty Links can make shortening links even easier. To create one, all you have to do is visit Pretty Links > Tools in your dashboard, customize your bookmarklet (if desired), and drag it to your browser's toolbar. After that, you'll be able to use the bookmarklet feature on any web page.
Do you have any questions about using the Pretty Links bookmarklet feature? Let us know in the comments section below!