How You Can Use Chatbots to Increase Conversions
Chatbots are becoming a popular feature on many websites. However, they may seem difficult to implement at first glance. It's easy to assume that adding a chatbot to your site will require advanced technical know-how.
Fortunately, there are plenty of easy ways to implement and benefit from chatbots. That's good news, since this technology is an excellent way to increase your conversions. Chatbots can encourage visitors to stay longer and can even generate new leads for you.
With that in mind, let's take a closer look at what chatbots are and how you can use them to increase your conversion rates. Let's get started!
What Chatbots Are and How They Can Benefit You
A chatbot is a feature that interacts with visitors on your website. It's programmed to mimic human speech patterns and answer questions while also encouraging visitors to stay on the page: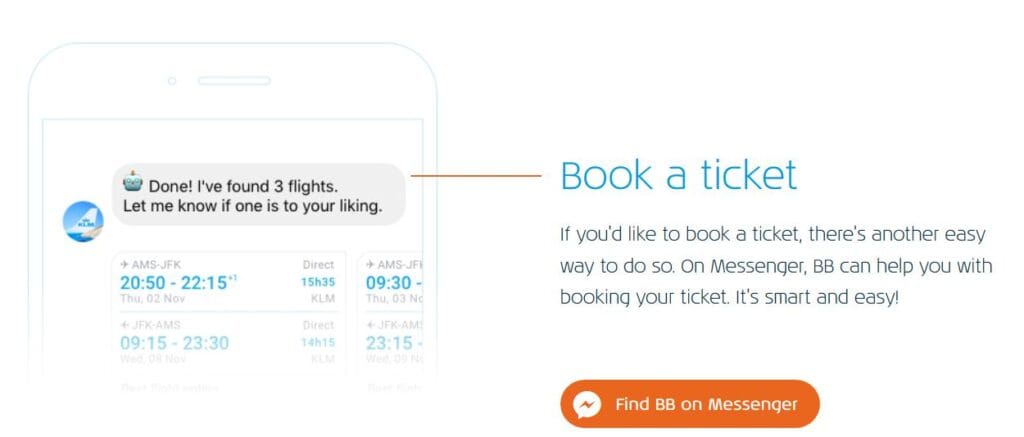 After all, even if you're able to attract someone to your website, that doesn't mean they'll stick around for long. Chatbots are a method for engaging them and encouraging them to learn more about what you have to offer.
Chatbots also enable you to serve your users 24/7, leaving no downtime. Otherwise, you might leave customers unable to get the help they need when a real person is not available. This makes chatbots a cost-efficient tool for keeping your customers happy and a way to reduce the burden on your customer service staff.
Plus, this feature opens up more time for your team to work on other tasks. You can let your chatbot put out the easy fires instead of adding them to your employees' workload. In fact, chatbots can often comfortably answer basic questions about shipping and product information, direct users to the right landing pages and documentation, and much more.
How You Can Use Chatbots to Increase Conversions (4 Tips)
Of course, not all chatbots are created equal. First, it's important to choose a high quality program, such as MobileMonkey. Second, a poorly designed bot isn't likely to boost conversions. If you want yours to attract users and encourage engagement, here are four tips that can get you started.
1. Program Your Chatbot With Useful Information
A well-made chatbot is advantageous, as it can result in more conversions than email subscriptions and other common marketing methods. However, this outcome is only likely if your chatbot can provide useful information: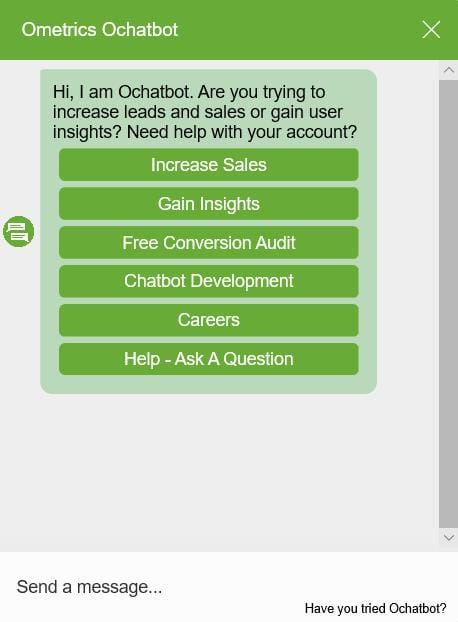 Consider why a visitor will be using your chatbot. They're likely to be seeking customer service or trying to answer a question. If a chatbot is intuitive, it stands to reason that users will enjoy interacting with it and find it more useful.
With that in mind, it may be best to prepare your chatbot with answers to basic questions that are pertinent to your website and business. Think of the queries you get most often, and integrate responses to them when customizing your chatbot. The more useful information your chatbot can offer, the more valuable it is.
2. Provide a Friendly 'Face' for Your Users
No one wants to feel like they're speaking to a machine, so the way your chatbot interacts with visitors is important. With a chatbot on your website, it will often be the first "person" visitors speak to that's associated with your business. They may become frustrated and even leave if the conversation doesn't start off on the right foot:
With that in mind, you may want to program your chatbot to greet people in a personable way. There is no right or wrong language, but friendly and natural responses are recommended. Often, users won't mind if they're not speaking to a person, so long as your bot is conversational and not too robotic.
Another action you can take is to try and give your chatbot some personality. You can use bots like Alexa and Siri as a source of inspiration. They're polite and concise, but also upbeat and occasionally humorous. So to put users at ease, you may want to select a personality for your chatbot that's relevant to your business, whether that's educated and professional or laid-back and playful.
3. Encourage Visitors to Stay Through Entertainment
Similar to giving it a personality, if you want to really keep users hooked it pays to make your chatbot entertaining. The more fun a visitor has talking with your bot, the longer they're likely to stay on the page: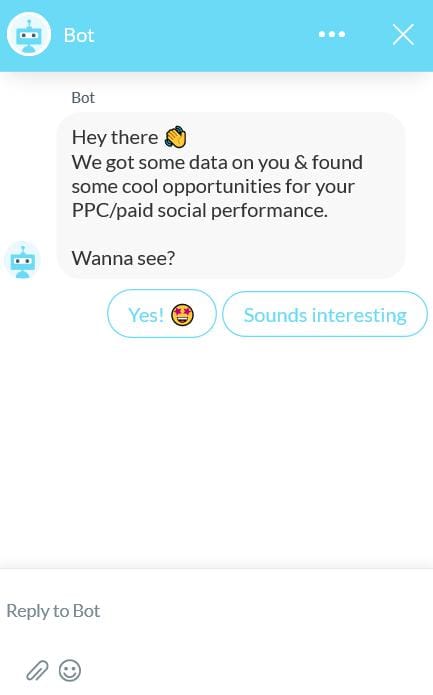 Some people may feel more comfortable speaking to a bot than a person, but they still want to have a conversation. While writing a series of automated messages seems easy, the more life you put into the conversation, the better.
You can look at the process of designing your chatbot as enhancing a social experience with your visitors. They may be curious about trying something new. If your chatbot offers a response that feels natural, you can improve their engagement.
Once again, Siri and Alexa are great examples to draw from. They have "favorite" things and can respond to questions like "What's your favorite food?" as well as to more serious queries. So give your chatbots some fun replies, and try to anticipate some of the more common things users may ask that aren't necessarily relevant to your business.
4. Link Visitors to the Right Landing Pages
Ultimately, chatbots are there to help your business. Along with entertaining and informing visitors, you want to funnel them towards actions you'd like them to take.
For instance, a chatbot can help if a customer is struggling to find a specific page. Rather than give up in frustration or wait for a live representative, they can get automated guidance:
A customer is more likely to return to a website that was easy to use and navigate over one they struggled with. By sending visitors exactly where they need to go, you're saving them hassle – something they aren't likely to forget.
What's more, you might want to program your chatbot to link visitors to your top pages. By doing so, you make your website more accessible and funnel users towards key landing pages and other vital parts of your site. That's an excellent way to promote more conversions over time.
Conclusion
Keeping your conversion rate high is no walk in the park, but chatbots can help. To improve your conversions and promote engagement, you'll need to know what it takes to make your bot a success.
If you keep the following in mind, you'll be well positioned to design a helpful and value-generating chatbot:
Program your chatbot with useful information to generate leads.
Offer a "friendly face" that puts users at ease.
Encourage visitors to stay by making your chatbot entertaining.
Have your chatbot link to key landing pages.
Are you considering adding a chatbot to your site, and do you have any questions about them? Ask away in the comments section below!