4 Best Practices for Promoting Your Blog Posts
You're writing and publishing blog posts on a regular basis. Unfortunately, they don't seem to be gaining the traction or attention you had hoped for. Sound familiar? The problem is that simply writing and sharing your content isn't enough to make your posts stand out.
To make the most of your blogging efforts, a proactive approach is needed. The key is getting your posts in front of the right audiences, and tailoring them in a way that sparks interest. When you do that, you can drive more traffic to your website, and ultimately increase conversions.
In this post, we'll discuss the benefits of promoting your blog posts, and explain how doing so can help you attract visitors. Then we'll walk through four tips you can use for effective blog promotion. Let's get started!
The Importance of Promoting Your Blog Posts
Blogging is a form of content marketing. For business owners, it's a cost-effective inbound marketing strategy that lets you showcase your expertise, and share insights your audience may find helpful.
Regularly publishing blog posts also helps you:
Increase clicks, engagement, and conversions
Generate high-quality leads
Build brand awareness
Reach new audiences
There's no point in spending time and research creating blog posts if they're rarely seen or read, however. Promoting your blog posts is the way to get the most return from your content creation efforts. In other words, it's how you make sure the time and energy you put into these materials actually reaches and attracts the right audience.
4 Tips for Effectively Promoting Your Blog Posts
It's not hard to see why you need to promote your blog posts. However, understanding how to go about it can be trickier. Let's take a look at four strategies you can use to increase the effectiveness of your blog promotions.
1. Use High-Quality Images in Your Posts
People are more likely to notice content if it's accompanied by high-quality and engaging images. Using images can help your posts stand out on crowded social feeds, for example, as well as in search engine results.
According to research by Skyword, blog posts that contain images get 94 percent more views. This matters because you can have the most informative, insightful, and intelligently-written blog – but if it doesn't capture people's attention, they aren't going to read it.
There are many different types of images you can use to help spark interest in your posts. For example, you can use free stock image resources such as Unsplash and Pexels:

For your images to have maximum effect, there are a few tips and best practices you'll want to keep in mind. For example, it's a good idea to use high-quality images that break up the text. This will make your posts easier to scan and digest, and come across as more professional.
You'll also want to pay particular attention to each post's 'featured' or 'cover' image. This will likely be the image that appears on social media and other sites when you share the post. Therefore, it's best to choose one that accurately represents the topic of the post, and is attention-grabbing.
Finally, make sure you're aren't using copyrighted images without permission. This reflects poorly on your blog and brand, plus it can get you into trouble. The best way to avoid this problem is to use original photography, or Creative Commons-licensed images.
2. Create Catchy Headlines That Are Optimized for Search Engines
Alongside the featured image, the headline of a blog post is one of the first things readers will see. Attention-grabbing headlines can influence engagement, and determine whether someone decides to click on the post or not.
It only takes a fraction of a second for people to form an impression of online content. So it's important to make sure your headline makes a statement quickly.
In particular, people are drawn to 'listicles.' Therefore, it's smart to incorporate numbers in your blog posts' titles. Your headline should also inform the reader of what they'll get out of reading the post.
Here's an example of a title that meets both criteria:
5 Quick Ways to Earn Money Fast
Another effective strategy is to use how-to headlines, such as:
How to Get More Followers on Social Media
This type of headline tells the reader what they will learn from the blog post, and in turn incentivizes them to click on it.
To get some ideas for effective headlines, you can use a tool such as BuzzSumo Headline Analyzer:

This solution lets you see what type of content performs well. It can also be useful for familiarizing yourself with the headline formats that drive engagement.
Search Engine Optimization (SEO) is another important aspect of creating strong headlines. Incorporating keywords can improve your posts' rankings in search engines.
To make post optimization easier, you might consider using a tool such as Yoast SEO. This WordPress plugin helps you format blog posts that adhere to SEO best practices, and lets you generate search engine-friendly headlines.
3. Shorten and Brand Your Posts' Links
Of course, sharing your blog posts is necessary in order to promote them. However, the links you use to display them in emails or on your social media profiles can affect whether or not people click on them.
Shortening and branding your links is a great way to turn long, bulky URLs into clean, concise, and memorable ones. In addition to appearing more trustworthy and professional, shortened links are also easier to share.
To shorten your blog post URLs, you can use our own Pretty Links plugin:
Once you download and install the plugin on your WordPress site, you can shorten and brand links directly from the dashboard. Pretty Links also includes social share buttons, so you can easily share your posts on your social accounts.
4. Share Posts on Social Media Using Relevant Hashtags
Social media channels are an effective platform for promoting your blog posts. However, each post should be tailored to the specific channels you're sharing it on.
For example, on Twitter, you have limited character space to work with. Therefore, it's important to focus on creating a unique, brief, and engaging summary of what the post is about.
On Instagram, alternately, the image is the most important element. However, you can use the caption to explain where users can go to read the full blog post (i.e., "Link in bio!"), along with relevant hashtags.
When sharing blog posts on most social media platforms, strategically using hashtags can help expand their reach. For example, research has found that tweets with hashtags get twice as much engagement.
To discover relevant and popular hashtags your audience may be using, you can try a tool like Keyhole: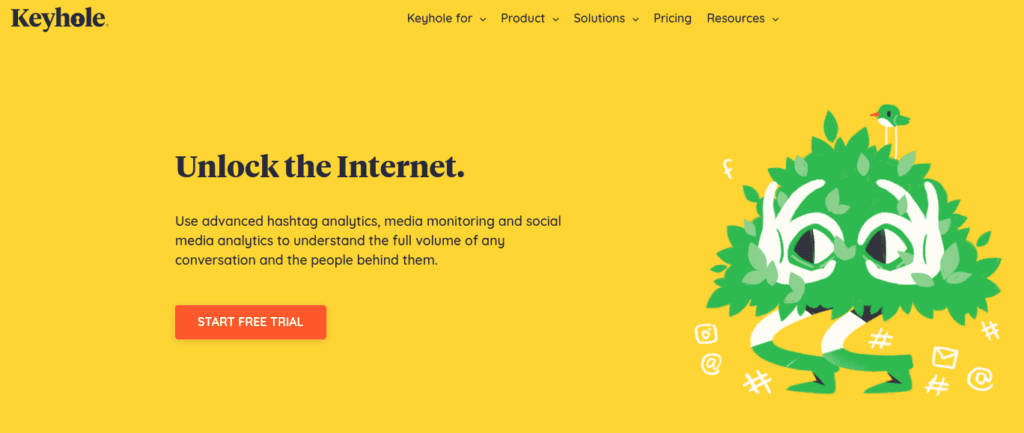 This tool lets you track Twitter and Instagram hashtags in real time, and see how many people are using a certain hashtag. It also tells you the reach and impressions of posts containing that hashtag.
Conclusion
You can spend hours each week writing blog posts for your website. However, if you want them to perform well, reach new audiences, and generate traffic, you need to be proactive and strategic about promoting them.
As we discussed in this article, there are four tips you can use to effectively promote your posts:
Use high-quality images.
Create catchy headlines that are search engine-optimized.
Shorten and brand your posts' links.
Share posts on social media using relevant hashtags.
Do you have any questions about promoting your blog posts? Let us know in the comments section below!