Should You Get a Dedicated Server for Your Online Business?
If you find the idea of a dedicated server for your online business appealing, you're not alone. The promise of increased privacy and control can be tempting. Nevertheless, these servers can come with a hefty price tag, so you might find yourself wondering if it's worth the investment.
Fortunately, there are a few key factors you can examine to help make this decision. By analyzing your business's current and future needs, you can figure out if a dedicated server is right for you.
In this article, we'll cover the basics of dedicated servers. Then we'll take you through three key considerations to take into account when you're deciding how to host your website. Let's get started!
An Introduction to Dedicated Servers
A dedicated server means your site is being hosted in its own private environment. You won't have to share resources, risks, or payments with any other users. This amount of flexibility can be an asset to your business.
Your host may manage your dedicated server for you, or it can be primarily your responsibility. Unmanaged plans tend to be cheaper, but they also carry more risk. You might want to make sure you're comfortable with all the options before committing to an unmanaged plan.
Additionally, you'll likely get to choose between a physical and cloud server. A physical server tends to have more power, but is usually more expensive. Cloud hosting can be cheaper, but has fewer capabilities.
The exact price for dedicated hosting can vary based on the above factors. However, you can expect to spend at least $100 per month. Given the high price tag, deciding whether to invest in your own server can be a tough call.
Should You Get a Dedicated Server for Your Online Business? (3 Key Considerations)
The potential benefits of a dedicated server tend to be unique to each business. Below are three key factors to consider when you're shopping for a host.
1. The Amount of Traffic Your Site Gets
When it comes to visitors, dedicated servers offer a lot of benefits. You'll have a large pool of resources reserved just for your customers, which means it's less likely that you'll reach a traffic cap. This also lowers the risk of a site-wide crash, preventing errors like this one: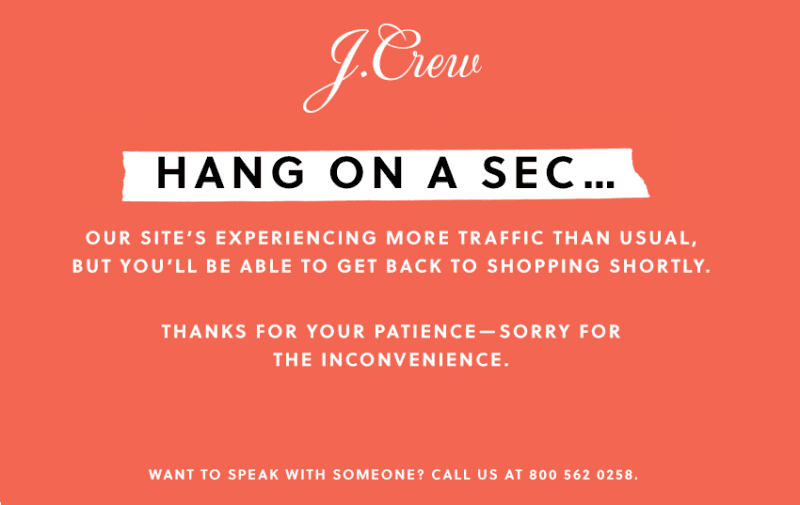 In addition to crash prevention, having your own server could also help provide a faster experience for your shoppers. This may seem like a minor factor, but it can contribute to more positive customer feedback.
Of course, you'll also need to consider your business' future. For example, let's say you have big plans to drive more high-quality traffic to your site. Alternatively, perhaps you're launching an appealing deal you think will attract many new visitors. In these scenarios, you may want to think about how well your current hosting plan could handle the situation.
Unfortunately, there's no specific benchmark that can determine whether a dedicated server is right for you. However, it's worth considering one if your existing server struggles to keep up with your site's traffic. Additionally, it may be a wise investment if you have plans for growth.
2. Your Organization's Security Needs
Isolation has security benefits too. While most servers are fairly safe, any shared environment carries a risk. For example, if a neighboring site gets infected with malware, yours could be impacted as well on a shared server. A dedicated server enables you to focus on other ways to secure your site.
Another benefit of a private server is having your own internet protocol (IP) address. This can be crucial if your business uses a Secure Sockets Layer (SSL) certificate to process credit card transactions. SSL works by encrypting any transmitted data with the more secure HTTPS protocol.
If you use HTTPS, shoppers are likely to trust your site more. They'll be able to see a padlock icon in their address bars, letting them know it's secure:
On a shared server, you may have the same IP as every other occupant. While it's possible to obtain an SSL certificate without your own IP, what you get varies depending on which type you choose. A private IP takes the guesswork out of the equation.
While you might not need all of these safety features, they can be insurance against the unexpected. If you're looking for protection against bad neighbors and value a straightforward SSL process, a dedicated server is definitely worth exploring.
3. The Amount of Control You Need
Some business owners prefer a hands-off approach when it comes to technology. However, if you're more interested in controlling your hosting, a dedicated server could be a wise choice.
With your own server, you have the flexibility to adjust settings at will. No one else will be affected, so providers often give you free rein. This can even include altering root files and folders. If you want to customize elements such as a specific operating system (OS), it's up to you.
Keep in mind, this control can be a double-edged sword. If you choose an unmanaged plan, you'll likely be fully responsible for maintaining your server. Furthermore, altering certain files may permanently break your site.
Ultimately, a dedicated server opens a lot of possibilities for you to personalize your settings. Nevertheless, you may want to make sure you have the technical knowledge necessary to do so safely.
Conclusion
A dedicated server can be a significant investment. If you're not familiar with the concept, deciding whether to commit can be intimidating. Fortunately, you can take stock of your business's specific needs in a few key areas to help you make up your mind.
In this article, we covered three things to keep in mind when considering whether to sign up for a dedicated server:
Your current and anticipated traffic
Your preferences regarding your site security
How much technical control you'd like to have (and how much you're willing to handle)
Do you have any questions about getting a dedicated server for your online business? Let us know in the comments section below!
If you liked this article, be sure to follow us on Facebook, Twitter, and LinkedIn! And don't forget to subscribe in the box below.