5 Best Conversion Rate Optimization Tools for Your Site
Conversion rate optimization (CRO) has become a buzzword in the marketing industry. The bottom line with CRO is, it's a highly effective process, but it's also quite complex and can be a little daunting for those new to it.
Fortunately, using the right CRO tools can help simplify this task. The proper tools make the process of analyzing, optimizing, and testing your pages more effective and efficient. The result is a higher-converting site and more money in the bank.
In this article, we'll introduce CRO and explore some of the best tools available for increasing conversions. Let's dive in!
An Introduction to Conversion Rate Optimization
If you follow the online marketing world, you've probably heard the phrase "conversion rate optimization". However, if you're not a marketing professional, you might be a little unsure of what it is. So, before we dive into the best CRO tools, let's demystify the concept.
A "conversion" refers to when a user completes a goal on your site. A goal may include signing up for an email list, purchasing a product, subscribing to a service, etc.
The "conversion rate" of a site is the number of conversions divided by the total number of visitors. For example, if you get 1,000 visitors to a landing page and 100 of them buy your product, then the conversion rate is 10%. This metric is important because it indicates the effectiveness of your website in getting visitors to purchase and make progress toward your business goals.
Finally, "conversion rate optimization" is the process of testing and improving your site (often a single page at a time) to increase the conversion rate. CRO typically involves gathering a large amount of research and analytics to determine what changes to make, implementing those changes, and then tracking the results carefully.
5 Best Conversion Rate Optimization Tools
CRO can be a time-consuming and challenging endeavor. Fortunately, there's no shortage of tools to help you through the process. Let's take a look at five of the best CRO solutions on the market.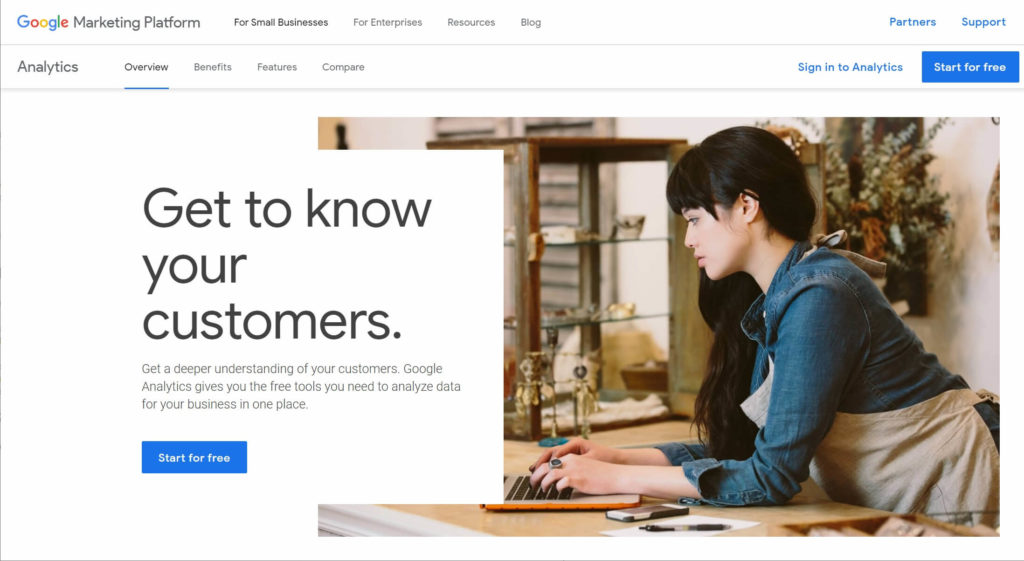 Google Analytics is a powerful traffic analyzer that's often used to determine how users are arriving on a site. However, it offers just as much detail about what users do after they've arrived, including when they leave. This makes it a highly useful tool for the research phase of CRO.
For example, let's say the users arriving on your landing page from Facebook tend to leave quickly and don't click on anything. However, the users from Twitter stick around and purchase at a higher rate. That's important information – and Google Analytics can provide it.
Best of all, it's free to use! You can get started by visiting the website and clicking on the Start for free button.
The longer it takes for your page to load, the less likely a visitor will wait. In fact, research shows that bounce rates reach nearly 40% for pages that take five seconds to load. Visitors can't convert if they never even see the complete page.
Google PageSpeed Insights makes it easier to get a rundown of potential performance bottlenecks on your website. To use it, you can simply enter your URL in the text box and click on Analyze.
Then you will receive a score for your site, as well as a breakdown of issues across several categories. It even provides useful suggestions for improving your website loading speed. As with Google Analytics, PageSpeed Insights is free to use.
Wouldn't it be helpful if you could see which parts of a page your visitors interact with the most? Well, that's exactly what Crazy Egg does. This tool's detailed heatmaps clearly show which areas on your site get the most attention, enabling you to move key call to actions (CTAs) and important messaging to the places where they'll be most effective.
Crazy Egg doesn't just handle heatmaps, however. It also enables you to record customer sessions on your site from start to finish, and it includes a useful A/B testing tool so you can test and compare website changes to the existing layout. Plans start at $24 per month with a 30-day free trial.
Customer research is one of the most important and powerful aspects of CRO. After all, the goal is to figure out what your customers need and give it to them in the most effective way possible. Nothing provides that information quite like a direct survey, which you can make and distribute with SurveyMonkey.
SurveyMonkey lets you create questionnaires and surveys on any topic you like. Most importantly, the resulting forms are simple and straightforward for the user, so you don't have to worry about inconveniencing your customers. Plans start at $25 per month.
Once you've gathered your analytics, heatmaps, and survey data with the aforementioned tools, the next step is to use that data to create a more effective web page. Unbounce can help with this part of CRO. It lets you easily create stunning landing pages with a simple drag-and-drop interface.
Once you've built your page, you can continue to optimize it with the built-in A/B testing feature. Unbounce also offers several smart targeting features, such as using artificial intelligence (AI) to route visitors to the most appropriate page variant. Plans start at $80 per month.
Conclusion
If you're struggling with CRO or find the whole process a bit mystifying, you're not alone. It can be a complex and daunting process even for seasoned veterans. Fortunately, there are some excellent tools available to help make CRO easier.
As we discussed in this article, there are five outstanding CRO tools you can use to help optimize your conversion rates:
Do you have any questions about these CRO tools? Let us know in the comments section below!
If you liked this article, be sure to follow us on Facebook, Twitter, and LinkedIn! And don't forget to subscribe in the box below.