3 Advanced Practices for Your Affiliate Link Disclosures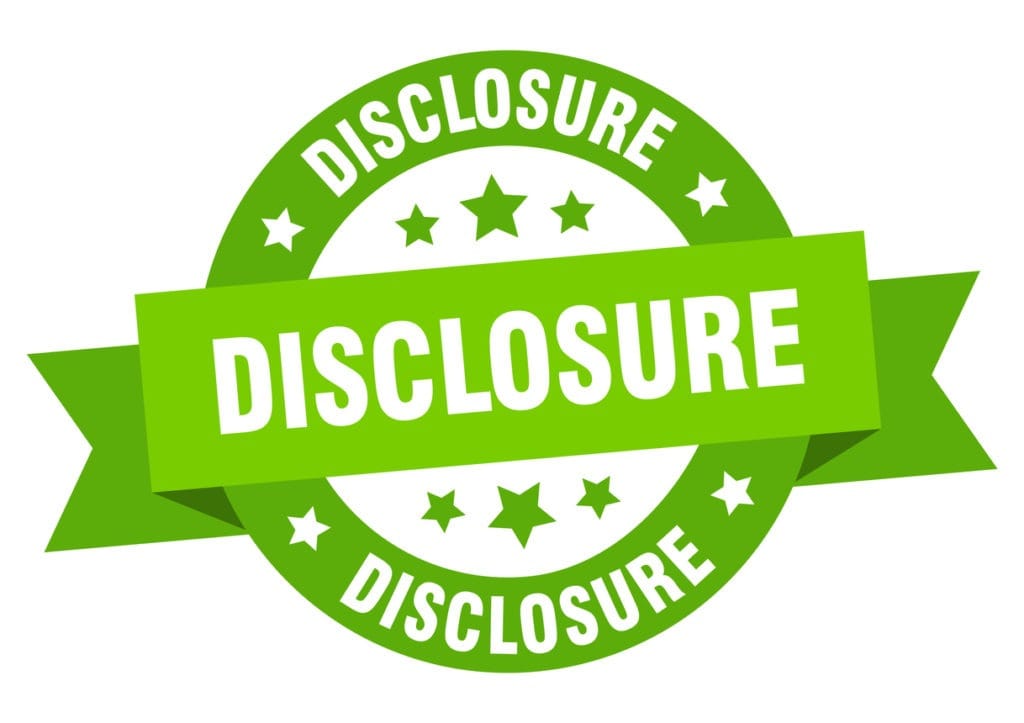 As a content creator, you probably understand the importance of affiliate link disclosures. These are required by most affiliate programs, as well as law enforcement agencies like the Federal Trade Commission. While you might already be using disclosures on your site, you may want to ensure that you cover all the bases.
If that's the case, you'll be glad to know there are other ways you can disclose your affiliate links besides adding a sentence or two in your posts. These advanced practices can help you build a stronger sense of trust with your audience, and possibly increase your sales.
In this post, we'll look at why disclosing affiliate links is a must and revisit some basic practices. We'll then show you three more ways to use affiliate link disclosures in your content. Let's get to work!
An Introduction to Affiliate Link Disclosures (and Why You Need Them)
An affiliate link disclosure is a notice that informs site visitors that a page contains product endorsements. Bloggers and other content creators typically use these disclosures to let readers know that they earn money from purchases made through affiliate links in their posts: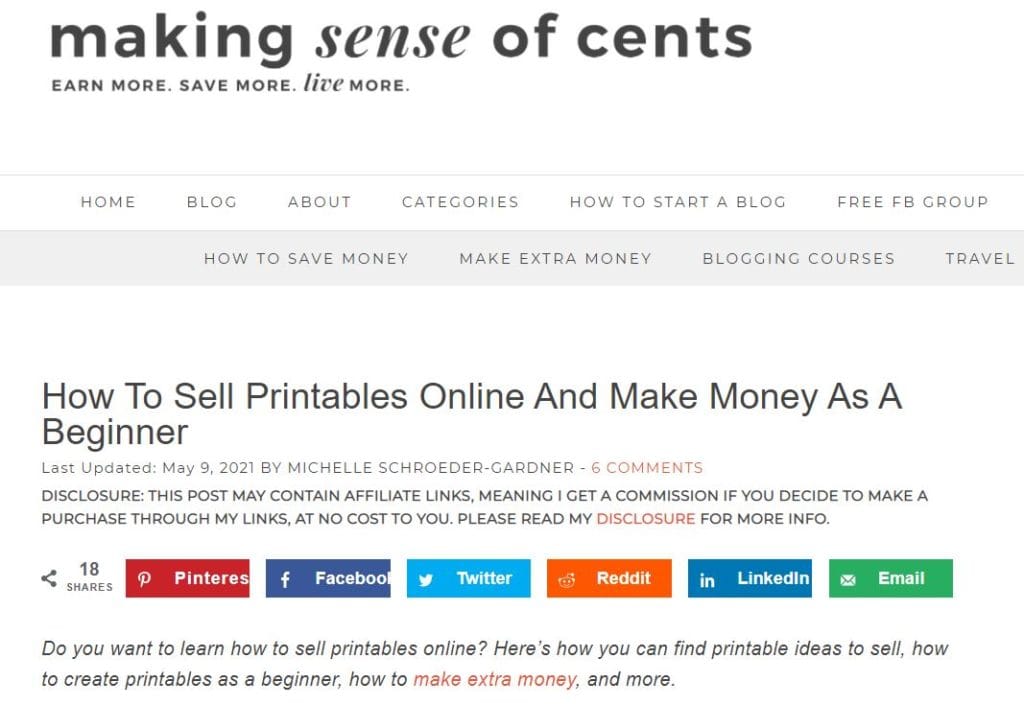 If you make money from affiliate marketing, it's important to disclose this fact on your website. Not only is it a legal requirement, but it can also help you build trust with your audience through transparency.
Employing basic practices for affiliate link disclosures can help you avoid running into legal issues. It can also help you drive more conversions, as readers should be more willing to purchase products through your site if you're honest with them.
When adding disclosures to your site, you may want to ensure that they are visible. Ideally, they should be placed at the start of each post. Moreover, they should clearly state that the publisher earns a commission from sales made via their site, at no extra cost to the consumer. Thus, your readers can rest assured that they're not paying more money when buying products through your recommendations.
3 Advanced Practices for Affiliate Link Disclosures
As an experienced publisher, you may already be using disclosures on your site. However, you may want to ensure that you're doing so effectively. Let's take a look at three advanced ways to disclose affiliate links.
1. Create an Affiliate Disclosure Page
An effective way to be more transparent with your readers is to set up a disclosure page. This will contain more information about your affiliate marketing strategy, including details that are not mentioned in disclosures within your posts:
This page provides readers with a detailed explanation of affiliate marketing. For instance, you may want to tell them more about affiliate links and how their purchases are tracked to your page. It's also a good idea to include a list of brands you're affiliated with. Some affiliate programs like Amazon Associates require members to publish a full disclosure statement on their sites.
Once you set up your affiliate disclosure page, you can include it in your menu and footer for easy access. You might also want to consider linking to it from your posts. For this, you can use our Pretty Links plugin. It comes with an automation feature that lets you insert a link to your disclosure page in every post: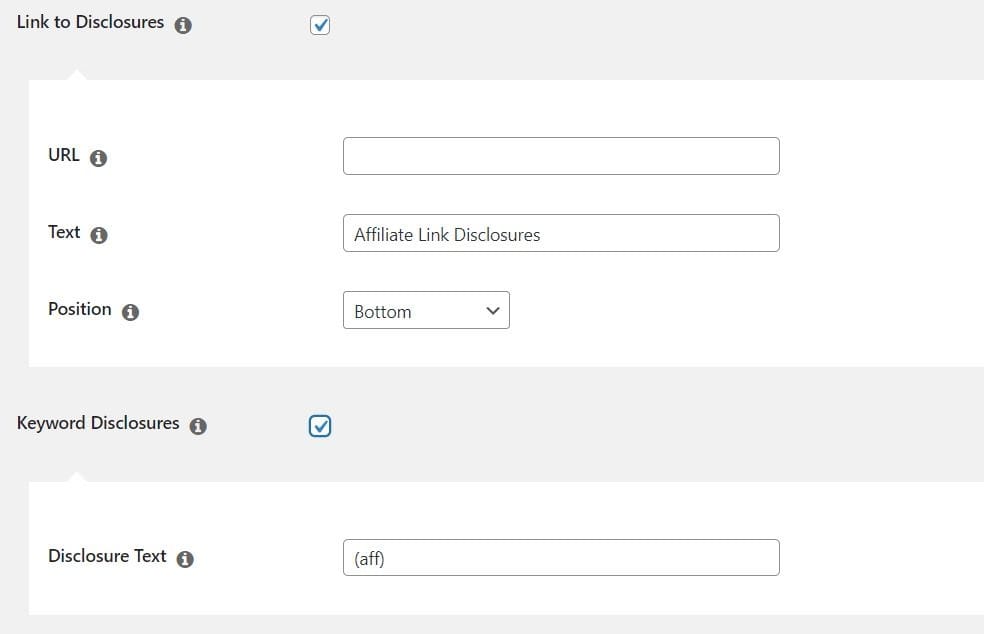 Therefore, your posts can contain a brief disclosure at the top as well as a link to the full disclosure page at the bottom. Note that this feature is only available in the premium version of Pretty Links.
2. Disclose Affiliate Links on All Your Mediums
As you're probably aware, disclosures should be included on every page where affiliate links are used. However, if you also promote products on other platforms besides your blog, it's important to ensure that you're disclosing affiliate links on every medium. This includes your social media pages, newsletters, and digital downloads like course material and ebooks.
You don't need to write full disclosure statements on social media. You can simply mark your posts as "sponsored":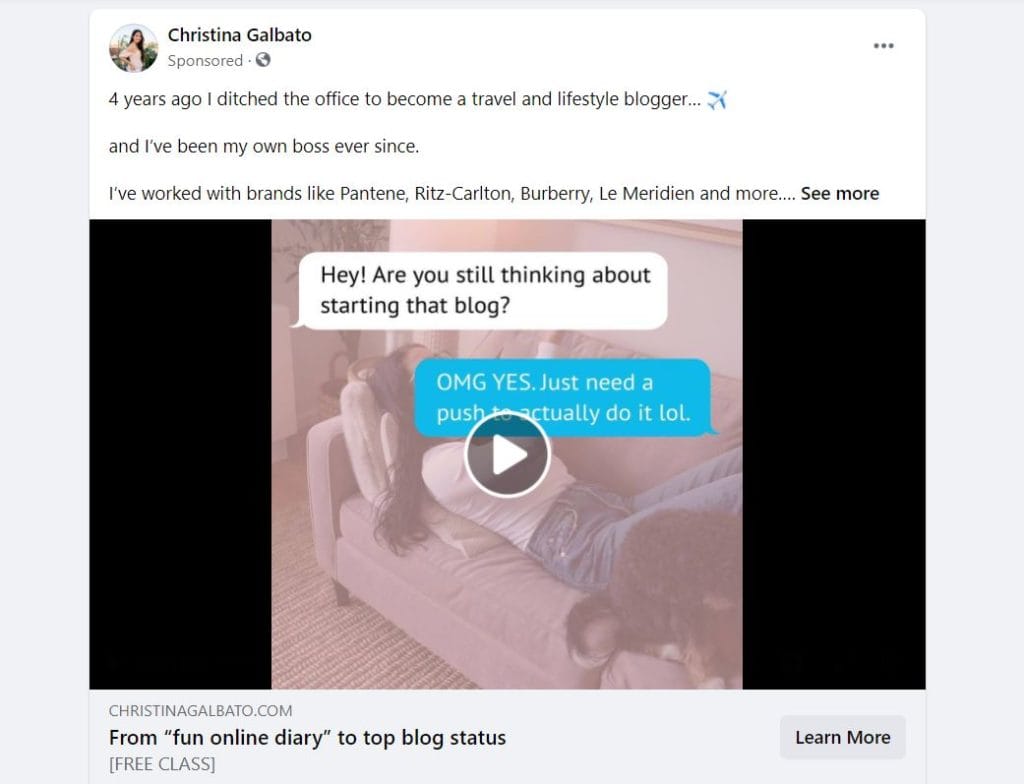 Alternatively, you can use hashtags instead, like #promotion or #ad. Note that not all of your followers will know what "affiliate" means. Therefore, you might want to avoid using tags like "affiliate link" or "affiliate product".
When incorporating affiliate links into emails and newsletters, you can simply add a brief disclosure as you would on your posts. You can even link to your disclosure page.
Meanwhile, if you promote products in digital downloads such as course worksheets or guidebooks, you can dedicate a page to your affiliate disclosures. Additionally, you can add a short statement in the footer of every page as a reminder.
3. Be Honest With Your Audience
As we mentioned earlier, being honest about your affiliate income can help you establish trust with your followers. However, you may want to ensure that your readers fully understand how important affiliate marketing is to your business.
When writing disclosures, try to explain to your readers how affiliate marketing helps you sustain your blog, so you can continue providing valuable content to them. After all, this is true for many independent bloggers and business owners. 
Honesty can be a strong selling point. Many readers will appreciate that you're being straightforward with them and may be more willing to purchase the products that you recommend on your site.
You can even apply this practice outside of blogging. For instance, readers or friends may reach out to you to ask for advice or tips, and you may feel inclined to recommend a product that might help them. There is no need to feel ashamed about using affiliate links in these scenarios. Simply let them know that you get a small commission if they buy the product, which will support your work.
Conclusion
Disclosing affiliate links is a legal requirement. If you're a content creator, you probably already have disclosures on your site. However, it's important to ensure that you're using them effectively in other places besides your posts.
In this post, we looked at three advanced practices for affiliate link disclosures:
Create an affiliate disclosure page that contains more information about how affiliate marketing works, and link to it from every post on your site using our Pretty Links plugin.
Disclose affiliate links on all your mediums, including newsletters, Facebook, YouTube, and course content.
Be honest with your audience about your affiliate income and how it helps you sustain your business.
Do you have any questions about affiliate link disclosures? Let us know in the comments section below!
If you liked this article, be sure to follow us on Facebook, Twitter, and LinkedIn! And don't forget to subscribe in the box below.