5 Enhanced Email Signature Management Tools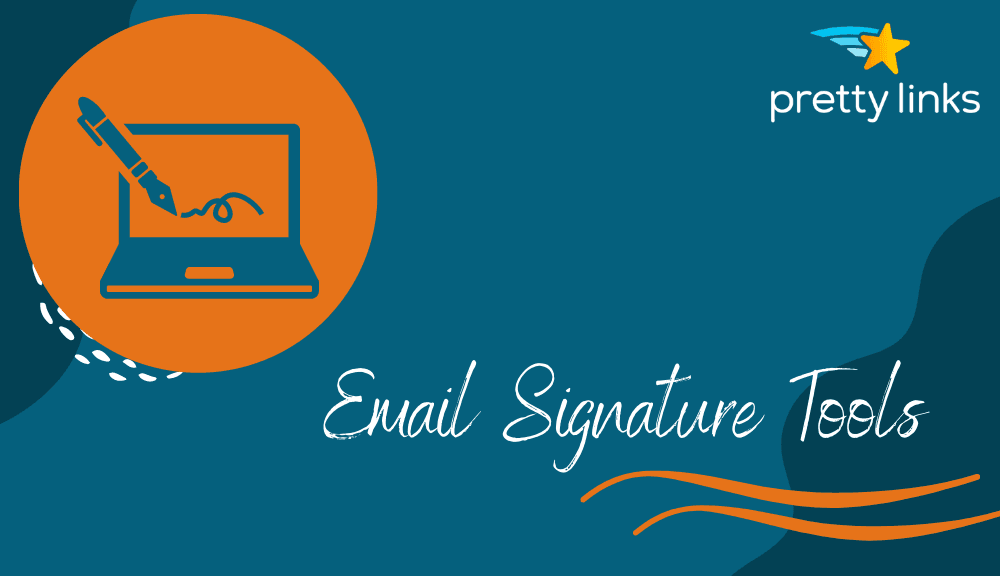 While often overlooked, email signatures play an important role in your email marketing strategy. They help add a personal touch and also provide useful information about you and your company.
However, managing them can be a bit of a challenge.
In this blog post, we'll take a look at five enhanced email signature management tools that will make life a lot easier for marketers.
Why is an Email Signature Important?
Email is widely used for sales and marketing purposes. Since a lot of people read your emails, having a plain signature isn't very professional. And just signing your name with regular text hasn't been a thing for years.
It's because people started recognizing the significance of a professionally designed email signature. Today, marketers are sure to add extra elements such as logos, social media links, CTA buttons, and links to their website.
A unique email signature can be attractive, memorable, and showcase your attention to detail and desire to look professional. Some companies design email signatures that are catchy and stunning, leaving great first impressions which often results in increased brand awareness.
Designing an Email Signature Isn't the Easiest Task
An email signature can be hard to code. It's based on the same principles as the HTML language code, which difficulties revolve around people using different browsers, devices, and screens. An additional stumbling block to email signatures is that people also use different email programs to send and receive emails.
Luckily, email signature management tools are a perfect solution. These convenient tools can help you create appealing signatures that draw attention in a short matter of time. They also take into account most of, if not all, possible email programs, browsers, and devices and provide optimized signatures for each of them.
Email signature generators save both time and resources. They offer numerous templates, allowing you to choose the ones you like without actually having to design the elements and encode them. You can use them to create a unique signature that will help you stand out from your competitors.
6 Enhanced Email Signature Management Tools for 2022
We tested various email signature tools and singled out six that we liked the most.
#1 Newoldstamp

Newoldstamp's email signature generator proved to be an excellent tool by allowing users to customize its templates. Their impressive template collection can be tailored to your brand. You can customize buttons, add links for social media, integrate different apps, and link to your website.
Uniquely, there are also options for designing a banner and adding a call-to-action button (ideal for leading to your landing page). You're able to create different variations that you can A/B test when you run your email outreach campaign.
The best thing about this email signature generator is its user-friendliness. Every feature is made clear and easy to use.
Price: Free or starting from $8/month.
#2 Hubspot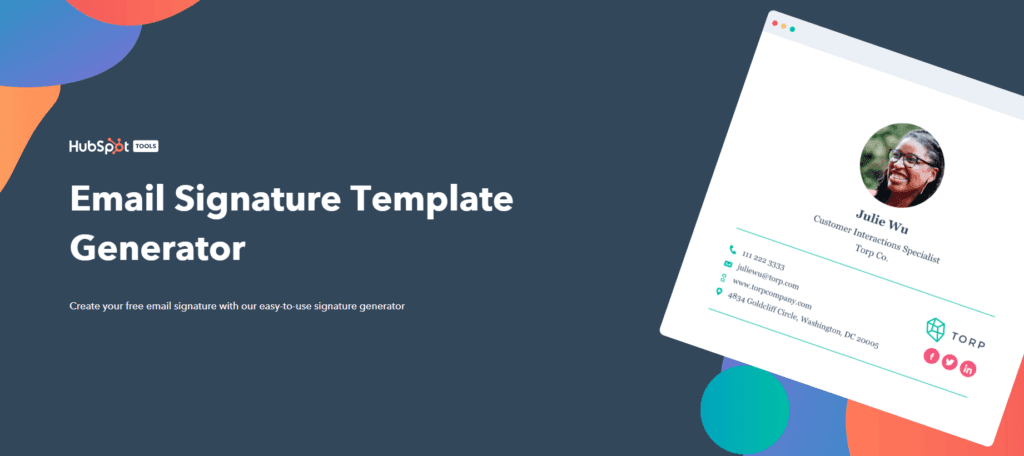 Multidisciplinary internet marketing giants such as HubSpot have their own email signature tool. They're known for their design skills and creativity, which they used for creating mesmerizing templates.
Their attractive style can still be personalized for your brand by choosing the dominant colors, font, and color, as well as the color of your links. Other than that, you just have to insert important details and upload an image of your choosing.
Price: Free.
#3 Mailcastr
Aside from having great templates and design elements, Mailcastr has its specific advantages. It has a feature similar to what you can find in email marketing software. It also shows whether your recipient read the email.
If your recipient opened your message, you'd get a real-time notification. Knowing who read your email lets you understand which clients to continue pursuing with a follow-up email or call. You also know which leads need a different approach.
You can learn which links were clicked on and even the IP with which the email has been opened. With a detailed activity report and real-time notifications, you'll be able to stay proactive with your email campaigns or sales presentation.
Price: Free or starting from $5/month.
#4 DesignHill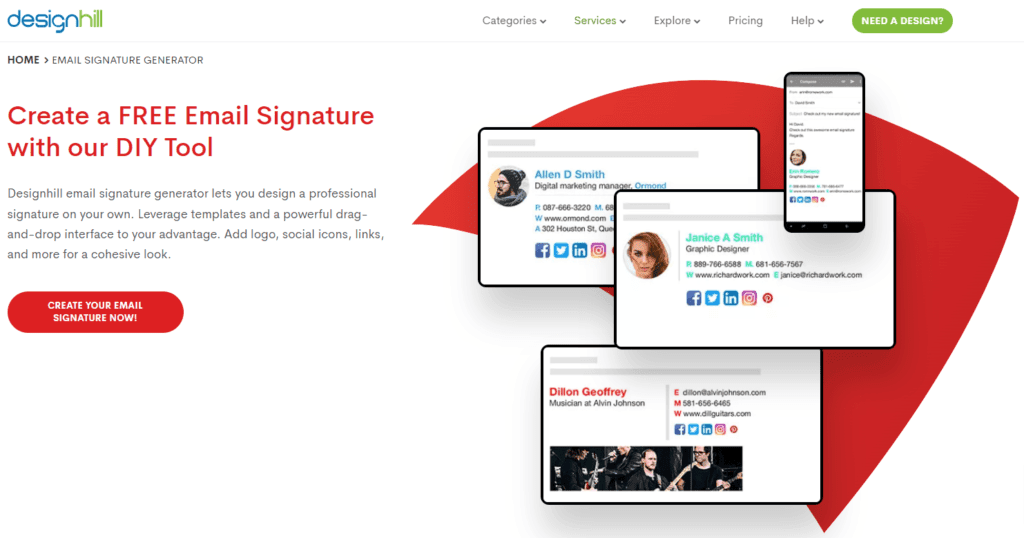 DesignHill is mostly known for offering various design services. But did you know that they also offer a tool for you to design your own signature? They have created impressive and professional-looking templates suited for business users.
Suitable to their expertise, the user experience for this generator is very delightful. They also allow you to add your social media links, buttons, and CTA. The tool is compatible with most email programs out there, so you don't have to worry about integrations.
While having slightly different features than other tools from the list, one of the best aspects about the DesignHill email signature generator is that it's free.
Price: Free.
#5 Signature Maker
Of all the tools, Signature Maker is the easiest to use. The interface is very straightforward. You just need to enter your details (and your links) which you can preview while you're typing.
The signature is clean, simple, not as flashy and glamorous as others. But the simplicity of the design is what makes it visually appealing.
Their unique value comes from the feature that creates a personalized handwritten signature which can really make you stand out.
Signatures are based on HTML5, which works well for Google services. Their signature can even be used to sign contracts, documents, and PDFs.
Price: Free.
In Conclusion
Email signature generators are a great aid for your email activities. They can make your company look dedicated and professional, all while making sure you're distinctive enough with a tailored customized design.
Your competition and many other companies are investing their resources to design a perfect signature. This means they are familiar with their effects and are actively working on improving them. Not having a designed signature can make you look subpar compared to those who do.
The email signature tools listed in this article can help you create a unique signature in a few minutes. From different features to different pricing plans, you can easily find the right one for you.
If you liked this article, be sure to follow us on Facebook, Twitter, Pinterest, and LinkedIn! And don't forget to subscribe to our newsletter 😄