4 Copywriting Tips for Affiliate Marketers Who Want to Win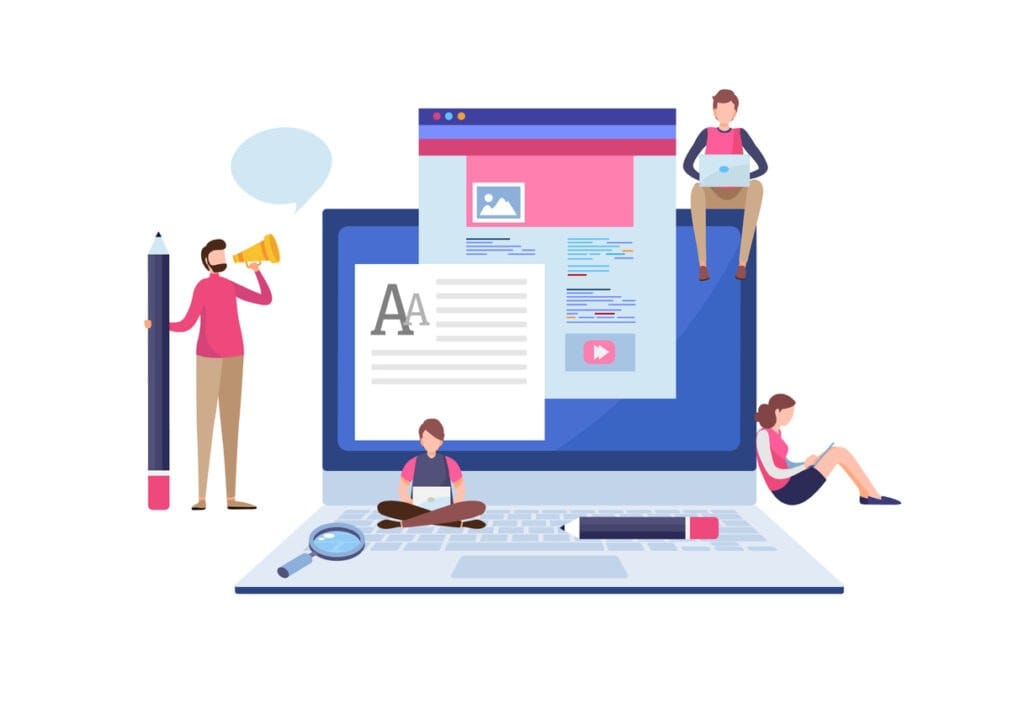 Hands down, one essential skill an affiliate marketer will need to master is copywriting. There is no success in affiliate marketing without powerful copy delivered strategically. Even with the best web design, content marketing plan, and link-building strategy, affiliate marketing efforts will fail without compelling writing.
Sticking banners on your site and calling it a day is no longer enough for successful affiliate marketing. You're in a new world of competition that includes ad blockers, custom Chrome extensions, and more.
But don't panic. Affiliate marketing is still a popular way to make money, especially with the ease that social media marketing brings to the table. But having a strategy is critical. As more and more millennials discover the benefits of affiliate partnerships, it gets harder to break through the noise and see a profit.
As if that weren't enough, cost-per-click (CPC) is going up across a variety of platforms. Pay-per-click (PPC) campaigns are also costing marketers more, and it doesn't seem like things will slow down anytime soon.
What does this mean for affiliate marketers? It means that it's more important than ever to use copywriting to head your marketing campaigns. Successful affiliate marketing today requires a strategic and engaging copy.
If you're not classically trained as a writer, don't fret. With a little help and a few good copywriting tips, you can train yourself to deliver copywriting that ranks your content, drives action, promotes loyalty, and builds an empire.
How Do I Write Engaging Copy (4 Copywriting Tips)
"The secret of all effective advertising is not the creation of new and tricky words and pictures, but one of putting familiar words and pictures into new relationships." – Leo Burnett
What that boils down to is, you need to take familiar concepts that your audience can resonate with – whether they want to understand something deeper or look for a change – and make those concepts accessible. As a successful affiliate marketer, you're inspiring experts everywhere you go.
There are more than a few ways to produce fantastic copywriting for your affiliate website without being a professional copywriter, but we'll give you our top four. Let's get started!
#1 Write Headlines That Draw the Reader In
Headlines are kind of a big deal when you're writing for affiliate marketing. The bigger the text, the more likely your eyes will be drawn to it first. That's why your headlines need to be compelling enough to keep the reader invested in continuing through the rest of the content. Remember, you're fighting against short attention spans.
The hierarchy of your content is also essential. Your headline should grab, and your subheaders should guide. Remember that you want people to reach your call to action. Building a flow that takes readers from one point to the next will help.
Be sure to spend some time crafting a headline that does one or more things:
Builds curiosity
Hints at a problem being solved
Offers something compelling
Entices and excites
Whether you're crafting a landing page, a sales page, ad copy, or any other type of content, the headline is going to be the first connection between you and the audience.
#2 Be a Keyword Fanatic
As an affiliate marketer, you'll get used to worrying about search engine optimization (SEO). Getting ranked higher can require plenty of strategic thinking on your part, even for something as simple as a social post. In the end, it's well worth it to figure out what keywords work for your affiliate marketing strategy.
Keyword research and optimization is a skill in itself, but understanding how to pick and use your target words will make your job much easier. Sometimes it can even mean writing longer content with more keywords (spread out and seamlessly integrated into the copy), in addition to using keywords your readers will likely search.
Why the long content? It's a mistake to stuff keywords into your writing and expect great results. Those long-tail keywords are pivotal, but they're noticeable when used repetitively throughout the text, especially without value. Nobody wants to stumble through chunky content.
For example:
Bad
Need to fix broken lenses? Many people use [affiliate product] to fix broken lenses because to fix broken lenses, you need a great product. The [affiliate product] will fix broken lenses without all the hassle!
Good
It can cost a fortune to maintain your glasses properly. The [affiliate product] is the go-to solution to fix broken lenses without the need for a second mortgage. [Affiliate product] gives you a way to extend the life of your glasses without breaking the bank.
To be thorough, we tested our product against thirty others that claimed to fix broken lenses at a low cost. Across countless metrics, we beat out the competition at half the price!
In the example above, the longer content used fewer keywords, but in a way that was less clunky to read. Many WordPress plugins will help you find the best longtail keywords, and many SEO tools allow for strategic research.
There are also plenty of plugins and tools that will make managing your SEO efforts more straightforward. SEMrush has a great content checker that will assess the overall messaging and keywords used in your content. It will even recommend keywords that work better for your desired outcome and list links that could give your content more authority.
Pretty Links even goes through your old content and updates keywords with links, improving your link strategy and keyword effectiveness. Be sure to use the tools at your disposal to improve your SEO rankings. 
#3 Understand Your Customers' Pain Points
Here's another quote for your desk:
"People will do anything for those who encourage their dreams, justify their failures, allay their fears, confirm their suspicions, and help them throw rocks at their enemies." – Blair Warren
Even with the best copywriting skills, you have to know your customers' pain points to make an impact with your writing. Who (or what) is the enemy you're helping them conquer? How are your words aligning with what they need and want to hear?
Ask yourself how your content helps to change customers' lives, and what their life will look like if they never touch your product.
You can find out by:
Creating detailed buyer personas
Visiting forums your target audience might use
Asking your audience directly
Researching the product's target market
#4 Pay Attention to Word Choice and Personality
The words you choose will either move or deter your readers. That fact might seem obvious, but it's a secret weapon in every professional copywriter's handbook. Becoming a great copywriter will take you back to a term you probably haven't heard since your school days: persuasive writing.
Persuasive writing consists of using power words, logical arguments, and emotional connections to move your readers to action. In affiliate marketing, the words you choose should help your audience decide that the product, service, or software you're promoting is precisely what they need. 
This ties into customer pain points significantly because your copy is solving a problem and encouraging trust. We all know that trust is gained, and most trust is gained over time.
Adding personal anecdotes and stories, speaking to your audience in a way that resonates with them, and being clear about how you want them to move forward will help build trust faster.
Making the reader feel like the center of attention can also work wonders. Words like you and us pull the reader out of their head and into your content.
All of this boils down to creating emotional connections through your copywriting. Choose words that drive readers to feel something. That something will depend on what you're selling, but remember to keep your target audience in mind. How do you want your reader to feel, and what words will push them in that direction?
The book, Words That Sell by Richard Bayan is an excellent resource for power words. There are many lists of power words out there, but here are a few to keep at the forefront of your mind when writing:
Attention-grabbers
Exclusive
Breakthrough
Bestselling
Elite
Appealing
Irresistible
Exceptional
Unforgettable
Picturesque
Competitive
Superior
Cutting-edge
Hard-hitting
Introducing
Welcome
Convincing
Versatile
Simplifies
Ready to go
Done-for-you
Include these types of words in your copywriting (especially in your headers) to increase conversion rates and overall website traffic.
In Conclusion
Copywriting and affiliate marketing go hand-in-hand. And you can write the kind of copy that converts when you stay focused on a few copywriting tips: use relevant and researched keywords, headlines that pull in readers, and words that build trust and urgency.
Do you have copywriting tips or questions on how to make a difference in your affiliate marketing? Let us know in the comment section below!
If you liked this article, be sure to follow us on Facebook, Twitter, and LinkedIn! And don't forget to subscribe in the box below.
4 Comments
Lydia

July 11, 2020

Fascinating. I had a sense that good copy should be a part of affiliate marketing. But I recently read an article that discussed the differences between blog writing and copywriting. Which led me to believe I should not write my blog like an ad copy or make it too salesy or persuasive. Your article is pushing me back to my original thoughts. Hmmmm.
Trey Briggs

July 11, 2020

Hey Lydia! I think that's good advice. There's a thin line between sales copy and valuable blogs, and you don't want to cross it. When it comes to blog posts, you want to be more informational and welcoming, not salesy. Power words come in handy for headings and titles with anything you write, but stay away from being too salesy on your blog or social media unless the post itself is about something you're selling. Your website and landing page copy is a different story, and you should generally be more persuasive in those places. My best advice would be to keep anything that isn't DIRECTLY selling something more useful/informational, and that includes blog posts.
Arnold
January 31, 2021
Thanks for sharing these great copywriting tips. I agree totally with your statement "You WILL FAIL as an affiliate marketer without great copywriting". I have always wanted to learn more about copywriting but felt that I was not creative enough to do it for myself. After reading this article, I am ready to give it another try.
Chinemerem Uzoukwu
February 24, 2021
I wish to join this world of copywriting and affiliate marketing. I have already learned a lot from these tips and would appreciate learning more. Thank you Trey Briggs