WordPress 6.0: What to Expect from the Latest Update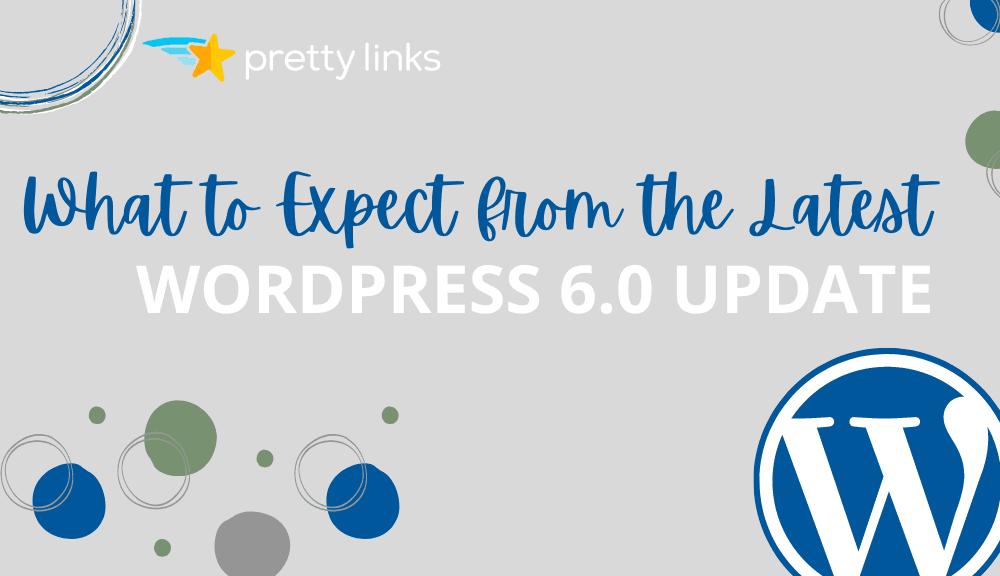 Whether you're an experienced WordPress user or a total beginner, you've probably heard the buzz about the latest release. Therefore, you might be wondering what to expect from WordPress 6.0.
While the newest version doesn't roll out any sweeping changes like what we saw in WordPress 5.9, you can still expect a few new features and improvements. From new core blocks to accessibility enhancements, you'll likely benefit from a review of everything 6.0 has to offer.
In this post, we'll introduce you to the latest WordPress version. Then, we'll provide you with a list of 5 key changes to look out for and how you can make the most out of them. Let's get to it!
An Introduction to WordPress 6.0
Depending on your level of experience with the content management system (CMS), you may already know that WordPress updates can come with radical adjustments. WordPress 5.9 introduced an entirely new approach to website building with full site editing (FSE). This made it possible to directly modify your site's appearance (or theme) using the site-wide editor.
Since we are still on the heels of that historic update, the changes in WordPress 6.0 may seem minor in comparison. Still, with nearly 1,000 updates and bug fixes, the latest WordPress version brings some highly useful improvements.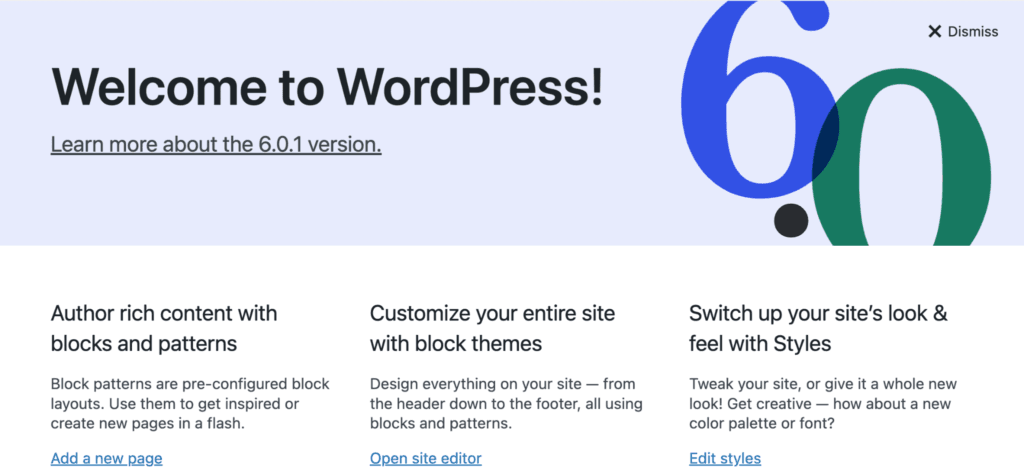 One of the major goals of this update is to further refine and expand FSE functionality. It also pays special attention to site-performance enhancements, as these are crucial for search engine optimization (SEO) and a positive user experience (UX).
Plus, the WordPress development team has worked hard to improve the usability of the interface. This time around, they've focused on writing functionality, accessibility, and smoothing out issues in the new and improved theme-editing environment.
In a nutshell, the 6.0 release further confirms that WordPress is one of the best CMSs for any purpose, whether it be an ecommerce site or an affiliate marketing business. On top of all these great features, you can always further elevate your site with plugins such as Pretty Links.
5 Key Changes to Expect from WordPress 6.0
Now, let's take a deeper look at the key changes to expect from WordPress 6.0, and how you can take advantage of them.
1. New Core Blocks and Block Editor Enhancements
Ever since the introduction of the Block Editor, we've come to expect a few new blocks in each new release. Fortunately, 6.0 doesn't disappoint.
Here are the new core blocks you'll get when you install WordPress 6.0:
Read More
Author Biography
Avatar
Cover
Comment Query Loop
No Results in Query Loop
Both the Avatar and Post Author Biography blocks will likely be super helpful for anyone who manages a multi-author site. Meanwhile, anyone who runs a blog will likely get some good use out of the Read More block. As the name suggests, this feature lets you create a "Read More" button.
Money Making Tip: Monetize your "Read More" block by turning your blog into a membership site business! Click below to learn more about our membership plugin of choice: MemberPress
In addition to new core blocks, there are some useful block enhancements. For instance, you'll now be able to lock certain blocks, preventing other users from modifying crucial elements of your pages and posts. Moreover, you can now add borders to blocks with greater ease.
2. Easy Style Switching
One of the most exciting updates in WordPress 6.0 is the new and improved Style Switcher. To access this feature, simply navigate to your Editor. We'll be using the Twenty Twenty-Two theme for our example.
Next, click on the duotone circle in the upper right-hand corner to open your Styles tab: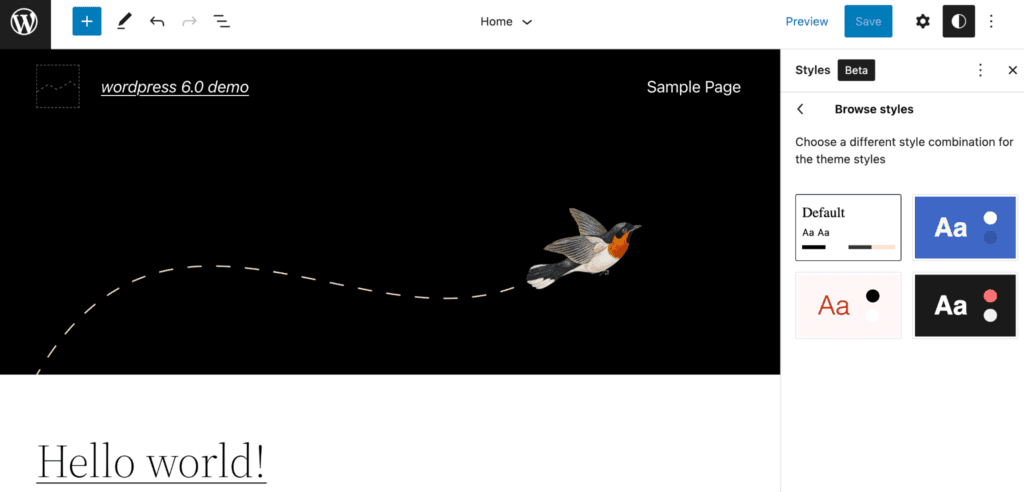 Then, you can click on Browse styles to see alternative style options. Simply choose one of these new styles to modify the entire look of your site in one click. We've chosen the blue option:
Once you're happy with your selection, make sure to click on Save in the top right. Keep in mind that the different style choices will vary depending on your theme. Also, this feature is only available for block themes.
3. New Template Types and Pattern Integration
WordPress 5.9 also brought the invention of block (or theme) Templates and Patterns. The latest version fine-tunes these handy page elements, and even introduces a few new template types, including Author, Category, Date, Tag, and Taxonomy.
You can access these elements by going into your Editor and clicking on the WordPress icon in the top left corner. Then, select Templates > Add New: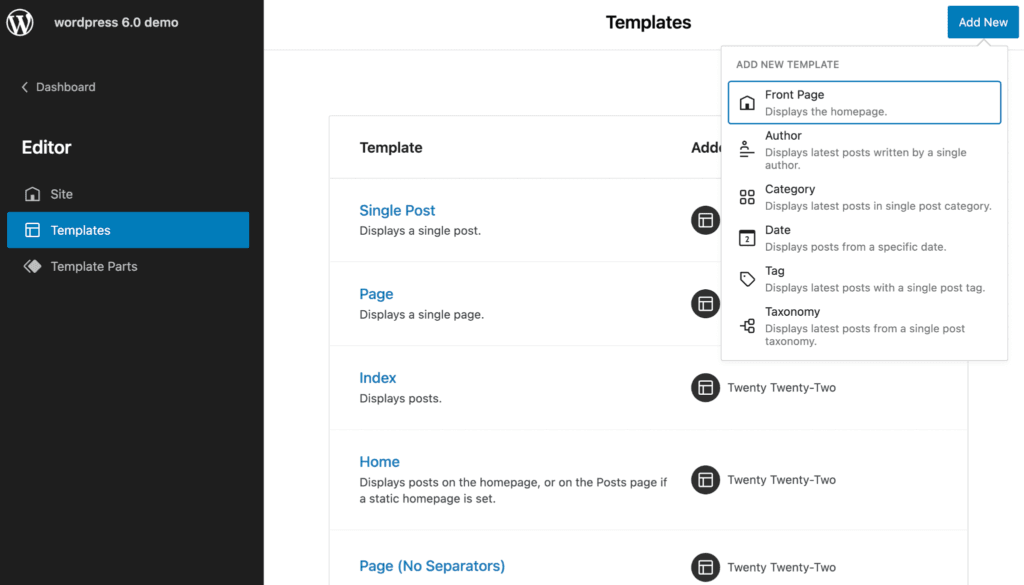 Templates and Template Patterns can significantly speed up the page-building process, so these new improvements will likely excite any website owner. Even better, these Patterns will now be available in more places. For example, you'll be able to access them when creating a header or footer, or using the quick inserter.
4. An Improved Writing Experience
Now, let's return to our handy Block Editor. In addition to block enhancements, we'll find some significant improvements to the writing experience.
Perhaps the most notable one is the ability to select (and copy) text across multiple blocks: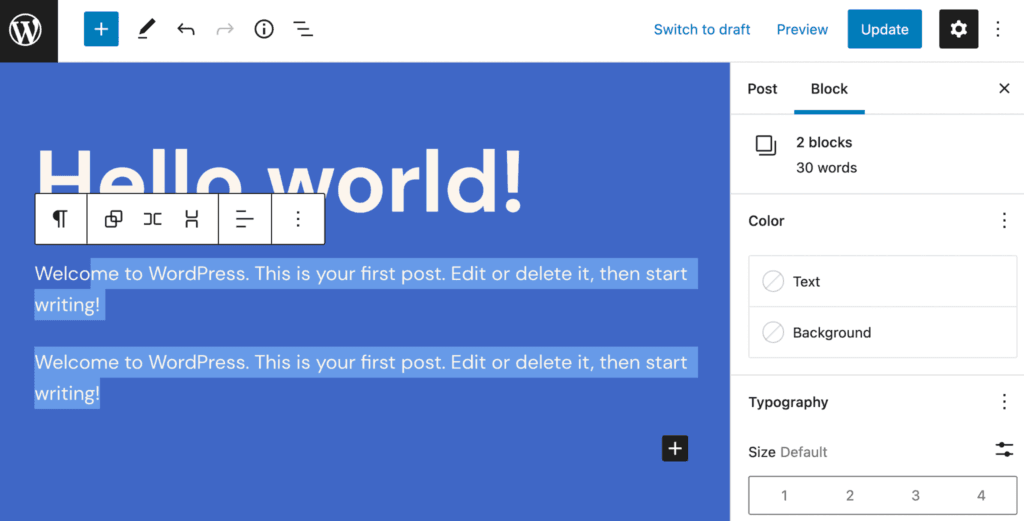 Moreover, you'll also be able to quickly access recent posts by typing their name after two open brackets '[['. There are also some practical improvements that can streamline the design process in the block editor. For example, now when you transform a paragraph block into a code block, the styles and settings won't be lost.
5. Accessibility Improvements
The WordPress development team is committed to inclusion. Therefore, it's no surprise that WordPress 6.0 features a ton of web accessibility improvements.

If you check out the WordPress 6.0's accessibility documentation, you'll see that these upgrades are organized into categories like Navigation, Media, and General improvements:
These advancements support best practices for alt text, compatibility with assistive technologies (like screen readers), and more. Improved tabbing is also hugely important as this will greatly improve the user experience for those who are unable to work with a mouse.
Conclusion
Navigating the ins and outs of each new WordPress release can sometimes feel like a chore. The CMS is constantly evolving in order to make the platform easier to use, so you'd be wise to start learning about its latest features as soon as they roll out.
To review, here are 5 key changes or updates to expect in WordPress 6.0:
New core blocks and block editor enhancements
Easy style switching
An improved writing experience
More templates and pattern integration
Accessibility improvements
Do you have any questions about the latest WordPress version? Let us know in the comments section!
If you liked this article, be sure to follow us on Facebook, Twitter, Pinterest, and LinkedIn! And don't forget to subscribe in the box below.