Everything You Need to Know About How to do Retargeting
Ideally, many of your website's visitors will end up converting. Unfortunately, this isn't always the case. Sometimes people end up leaving your site because they get distracted or they simply aren't ready to complete a purchase. So, what can you do to bring consumers back once they're ready to buy? Retargeting ads can help make that happen.
Retargeting is an effective marketing strategy to boost brand visibility and target shoppers who have already shown an interest in your products or services. It's an excellent way to promote your ads to the right audience at the right time.
In this post, we'll discuss what retargeting is and how it can benefit your business. Then we'll provide four tips on how to use this marketing tool effectively. Let's get started!
An Introduction to Retargeting
Retargeting is a marketing technique that lets you use visitor information to strategically place your ads throughout their online journey. This will allow your brand to stay visible and keep your audience's attention, even after they've clicked away from your site.
Let's say you send out an email campaign offering a special promotion. A subscriber reads the email, then visits the link to your site. Unfortunately, they receive a phone call or something else that pulls them away from your page.
Later that day, your subscriber is back online and opens their Instagram account. There, they see an ad for your brand, which reminds them of your promotion: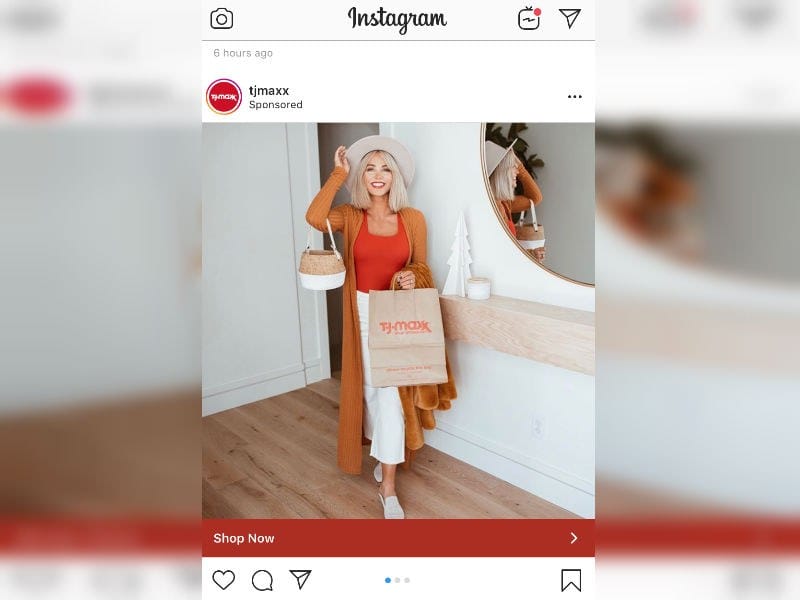 Simply seeing your ad can encourage them to click back to your site and complete their initial checkout. In this manner, retargeting enables you to "follow visitors around" with relevant ads.
There are a few different types of retargeting, including on-site, social media-based, and Google Display. Whatever the source, retargeting typically involves adding a pixel or snippet of code to your website. This collects data about your visitors so the right ads can be displayed.
The Benefits of Retargeting
The main draw of retargeting is to bring shoppers back to your site after they've already visited it once. This is important, considering that 98% of consumers don't complete a purchase on their initial website visit.
Repeated exposure to your brand can help encourage more purchasing decisions. It keeps you at the forefront of your visitors' minds and makes it easier for them to recall your offerings.
This cross-channel marketing approach is an effective way to boost conversion rates and prevent consumers from slipping through the cracks. Plus, you can automate these ads to enhance their efficiency.
4 Tips for Using Retargeting Effectively
We've looked at what retargeting is and its benefits. Next, it's time to learn how to do retargeting. Let's explore four tips you can use to optimize its effectiveness.
1. Get to Know Your Audience and Segment into Groups
First, you need to know your audience. This is the case for most marketing strategies. The more information you have, the more successful the retargeting will be.
Conducting a target market analysis lets you gather data on your audience's demographics and behavior. You can use it to look for common characteristics, including:
Age range
Location/time zone
Income level/spending power
Interests
One method of collecting this information is to use Google Analytics: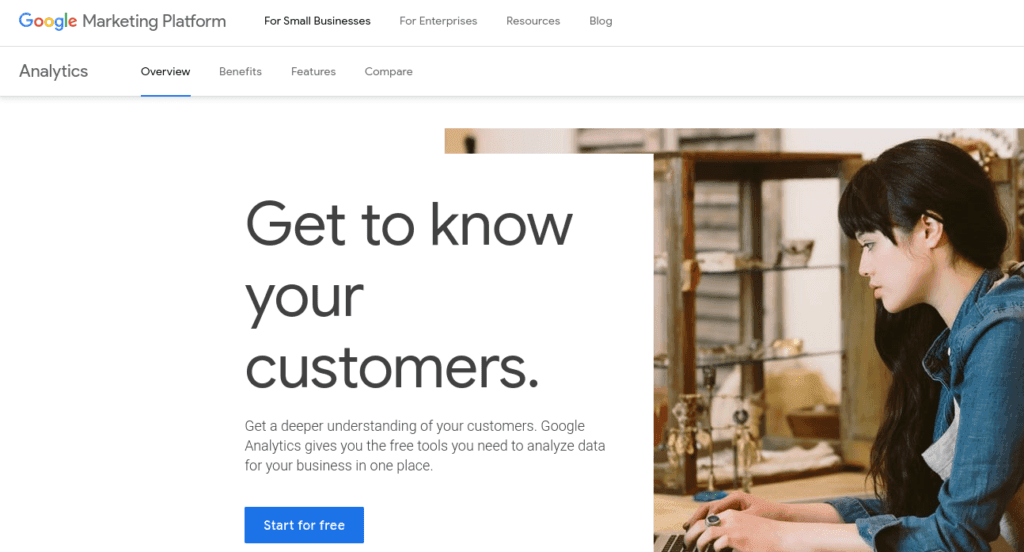 This tool offers essential insight into your audience, including their interests, behaviors, and demographics. You can also use the Cross Device feature to better understand how visitors interact with your site across different devices.
This is just one of many marketing research tools you can use to learn more about your audience. You can also use social analytics solutions, such as Instagram Insights.
2. Create Retargeting Ad Campaigns on Social Media
People undoubtedly spend a lot of time on social media. So it makes sense to market to them on the networks they use most.
You can reintroduce consumers to your products by setting up social media retargeting ad campaigns. Incentivize a customer's actions even more by offering discounts.
Facebook and Instagram are two powerful platforms you can use for retargeting campaigns. First, you'll need to create a Facebook Pixel in your Business Manager account.
Once you create and add the pixel to your website, then you can set up a custom audience. Go to your Business Manager settings and visit Audience > Create Audience > Custom Audience: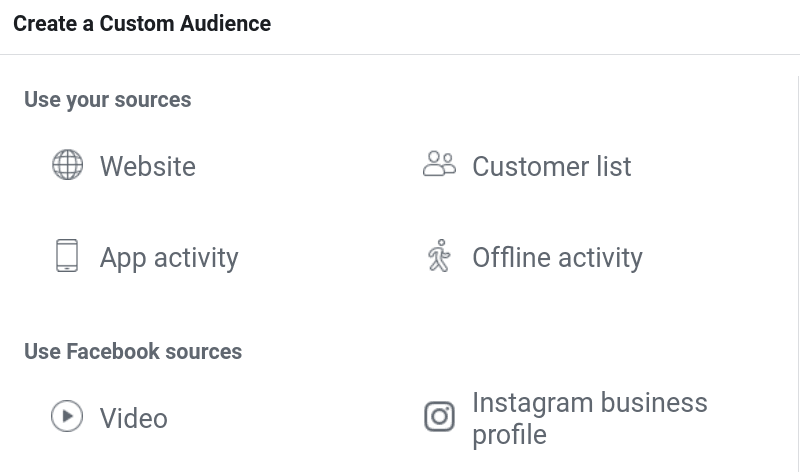 One option is to create a custom audience based on your website's visitors from the past seven days. You could also target visitors who have visited specific pages:
Finally, you can create your ad campaign and start to attract more visitors.
3. Optimize Your Ads and Landing Pages to Boost Conversions
To get the most out of your retargeting campaigns, it's important to optimize your ads and landing pages. For example, you'll want to make sure your ad copy and images are relevant and actionable.
Additionally, we recommend rotating between different versions of your ads. This can help prevent "ad fatigue", which is when an audience sees an ad so often they start tuning it out. Setting a frequency cap can help with that.
You might also want to consider using a post-click landing page for retargeted ads:
It's always a good idea to create a unique landing page for each promotion. Post-click landing pages help match your content with visitors' expectations.
4. Use Link Retargeting in Your Marketing Content
We've discussed how to target people who have visited your site. However, you can take this one step further through link targeting.
In a nutshell, link targeting is the process of putting your retargeting pixel code from Facebook or Google in a short link. As a result, anyone who clicks on the link (not just people who've visited your site) will be added to your retargeting pixel.
You can use link retargeting in virtually all of your marketing content. It broadens your reach and scope by incorporating consumers who have interacted with your links but perhaps not your website (yet).
You can do this by using the Pretty Links plugin. Once you install and activate it, you can add tracking scripts: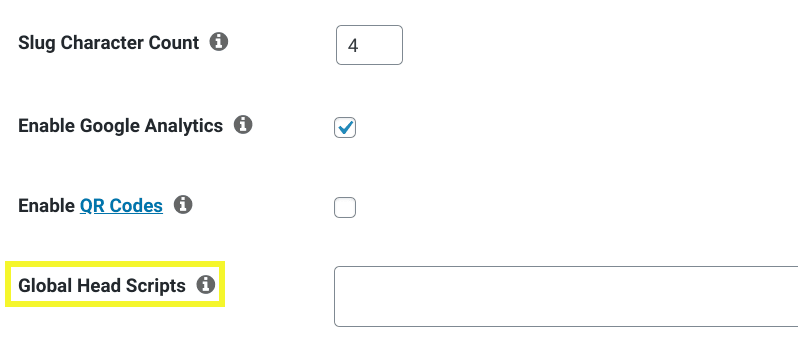 Under Default Link Options, you can enable both tracking and Google Analytics. Next, in the Global Head Scripts text box, you can paste in your Google or Facebook pixel code. That's all you'll need to get started.
Conclusion
In today's crowded online environment, it can be difficult to capture (and keep) consumers' attention. Not only do you need to motivate shoppers to visit your site, but you also need a way to bring them back after they leave.
Fortunately, knowing how to do retargeting facilitates engagement easier. For more effective retargeting, you can:
Get to know your audience and segment them into groups.
Create ad campaigns on social media channels.
Optimize your ads and landing pages to boost conversions.
Use link retargeting in your marketing content.
Do you have any questions about how to do retargeting? Let us know in the comments section below!
If you liked this article, be sure to follow us on Facebook, Twitter, and LinkedIn! And don't forget to subscribe in the box below.