How to Conduct a Survey of Your Website's Users
When running a website of any kind, one of the most important things to consider is how effective your site is at serving visitors' needs. Perhaps unsurprisingly, the best way to find this out is to directly ask the people who use it.
There are a number of different ways you can do this. However, surveys provide a quick and efficient way to get the information you need straight from your users. Sending out a survey also enables you to improve customer satisfaction, and collect data you can use to help shape and grow your website over time.
In this article, we'll discuss why you might decide to conduct a survey of your website users and guide you through the process. Let's get started!
Why User Surveys Are Important to Your Website
Businesses and researchers across many industries frequently conduct surveys on their websites to gather the information they need directly from their users: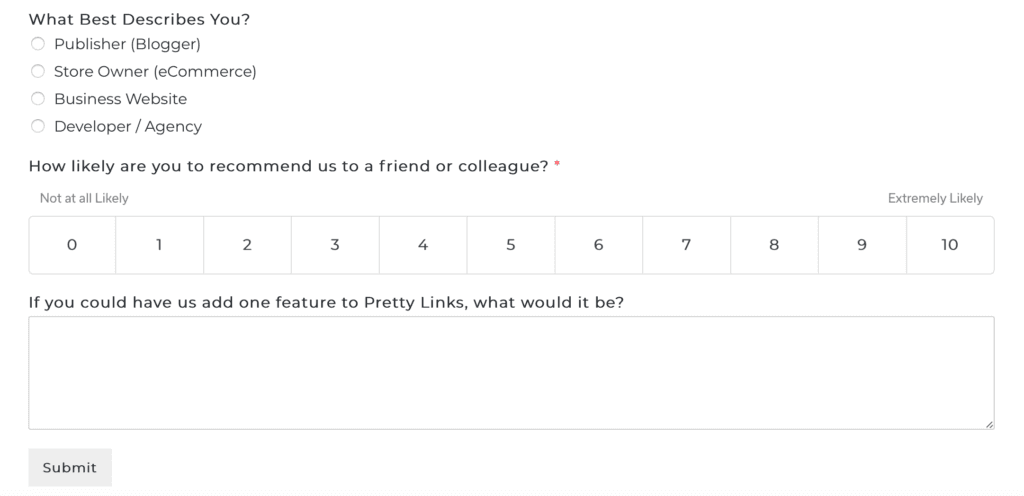 Surveys are mutually beneficial because they enable a website owner to gather valuable data, while also giving visitors a chance to voice their opinions. Although this by itself is an excellent reason to implement a survey, there are a number of other benefits to consider.
For example, one of the most useful things about conducting a survey is the sheer amount of information it enables you to collect. A survey helps you get inside the minds of your users and discover what they think works and what doesn't. This information makes it easier to ensure that the content you produce fits the needs of your audience.
What's more, a survey conducted online can involve a significant chunk of your audience. Surveys are also not bound by geographical location.
For these reasons, the data collected should be more representative of your users' real thoughts and needs. In addition, since surveys are usually carried out anonymously, many people are more honest with their responses than they would be were you to ask them questions directly.
In other words, there are many reasons to conduct a survey of your website users. All you need is the right tool to get the process started.
3 Tools to Help You Create Your Website Survey
Another advantage of conducting an online survey is that it's a low-cost technique. This is partly thanks to the multitude of affordable (and some free) plugins and sites you can use to create and distribute your surveys. Let's go over a few of the best options that are available for WordPress users.

First up, WPForms offers a free version, WPForms lite, that enables you to create custom surveys quickly. It's a very user-friendly tool, meaning that you can easily add your own fields and arrange them without the need for coding. You can get started by customizing a preset template, or you can build your survey from scratch using a drag-and-drop form builder.
If you're interested in accessing additional features, WPForms has a variety of paid plans you should check out.
Formidable Forms is a free yet powerful form-builder plugin, which enables you to put together advanced contact forms, surveys, quizzes, and more. Like WPForms, it also offers a drag-and-drop editor, meaning survey creation is fast and efficient. If you want access to even more options, there's also a premium version.
Perhaps the most well-known of all survey building platforms, SurveyMonkey is a free online service that offers the tools you need to produce professional-looking surveys in minutes. The site offers a number of features, including easy social sharing options, customized branding, and some handy templates to get you started. Plus, you can integrate your surveys with your WordPress website.

How to Conduct Your Website Survey (In 3 Steps)
No matter what tool you use to create your survey, you'll want to follow the same overall process if you'd like it to be as effective as possible. The following three steps will help you get your survey off the ground, and make the most of the results.
Step 1: Choose the Right Questions
The most important element of your survey is the questions you ask. They determine the way the survey will be received by your users and the data you stand to gain. A good way to ensure that you're picking the right questions is to focus first on the information you want to gather.
Questions should be direct, relevant, and neutral, and you should avoid any that are unclear or display a bias. For example, asking a user how much they enjoy a service implies that they do, in fact, enjoy it. It doesn't leave much room for honest feedback from those who don't like it. You should always include negative response options, which enable you to highlight opportunities for growth.
Step 2: Encourage Visitors to Respond
Once you've put in the work to craft your survey, you need people to actually take it. Of course, for many users, simply being granted the opportunity to voice their opinions is reason enough to participate. However, not everyone will be so easily convinced to take the time needed to fill out your survey.
You can encourage those users by using emotive language throughout the survey itself. Phrases like "We want to know what you think!" can make the person taking the survey feel appreciated and more likely to want to give something back. You should also make sure the survey gets straight to the point, and doesn't take up too much of their time.
Step 3: Use the Survey's Results to Improve Your Site

As we mentioned earlier, conducting a survey is an excellent way to gain important information about the way people perceive your site. As long as your questions are clear and concise, you should end up with results that you can put into action.
In other words, the responses to your survey can help you identify how effective your website actually is. The responses will also highlight the areas where you may need to consider making some changes.
For this reason, it's vital to carefully review the responses you get, and apply what you learn to improving your site. When users feel like you've listened to them, they'll be more likely to keep coming back and engaging with your site.
Conclusion
It can be hard to give people everything that they want from a website, but surveys are an invaluable tool that can help tip the scales in your favor. Reaching out to your users for their thoughts and concerns is a perfect way to improve customer satisfaction, and anonymous surveys are perhaps the best method for getting at their honest feelings.
To conduct a survey of your website users, all you need to do is:
Choose the right questions.
Encourage visitors to respond.
Use the survey's results to improve your site.
Do you have any questions about conducting a website user survey? Feel free to get in touch via the comments section below!