How to Boost Your Brand Power with Vanity URLs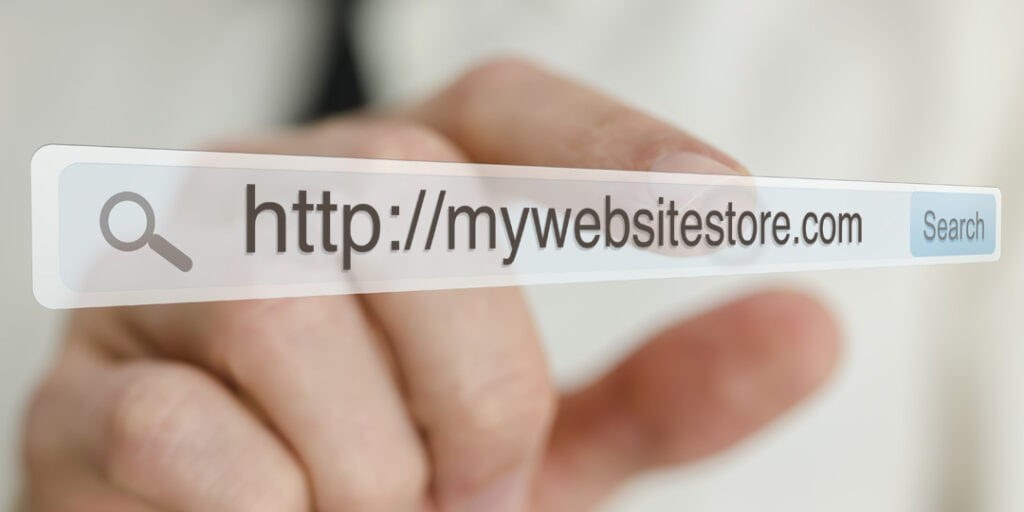 Custom domains used for marketing purposes (i.e vanity URLs) are a powerful way to boost your branding. However, choosing one is not always a simple process. Ultimately, a poor vanity URL won't reflect well on your brand, and could even slow the growth of your business.
Fortunately, there are a number of best practices you can follow to maximize the effectiveness and fit of your vanity URLs. After all, choosing them is more to do with common sense and logic than creativity.
In this article, we'll first go over what a vanity URL is, then we'll walk you through the steps needed to choose and purchase one. Finally, we'll offer some advice about integrating your vanity URL into your marketing strategy.
Let's get started!
What a Vanity URL Is (and 3 Tips for Choosing One)
Simply put, a vanity URL is a custom domain for a specific page on your website that's been branded for marketing purposes. For example, imagine you own beer distribution company that also has an onsite brewery. Instead of beercompany.com/brewery, you might use the URL beercompanybrewery.com to direct users to the brewery page on your website.
Using vanity URLs brings a number of benefits. First, aside from creating a memorable handle to help users get back to a particular page on your site, they also strengthen your branding efforts by enhancing your business' credibility. Vanity URLs also provide the potential for custom-branded business email addresses, which increases your professionalism.

In addition, vanity URLs can lead to increased traffic. This is because having your custom domain name on display in search engine results and ads enhances click-through rates (CTR), potentially bringing more business to your site.

Fortunately, choosing a vanity URL follows a similar path to choosing a regular domain:
Make it memorable.

Catchy, short URLs

help readers remember how to navigate to your site the next time they want to visit.

Make it easy to pronounce.

Memorable and pronounceable often go hand in hand, and a natural-sounding URL can aid retention.

Avoid potential infringements.

Simply put, you don't want to end up in court. Take caution, and make sure you're not treading on the toes of another company with your vanity URL.
All in all, choosing a vanity URL is pretty basic. By using some common sense and thinking about the bigger picture, you'll be well placed to make a purchase.
How to Choose and Purchase a Vanity URL (in 3 Steps)
Now that we've gone over some pointers for choosing a vanity URL, let's look at how to actually select and purchase your custom domain.
Step 1. Choose a Suitable Name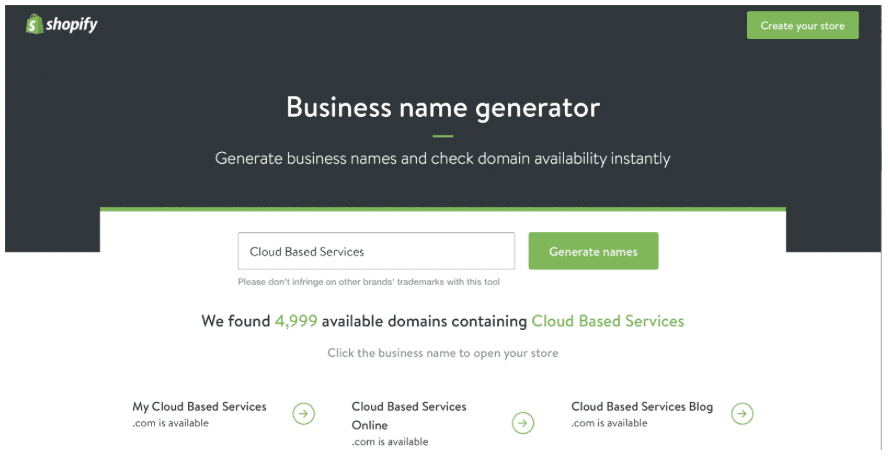 While sometimes the name of your vanity URL will be self explanatory, you may also need some assistance – especially if you're looking to promote a particularly niche page. Fortunately there are plenty of great resources to give you a helping hand. Here are a couple we like:
Shopify's Business Name Generator.  This tool will generate available domain names based on the keywords you enter. You can then choose to reserve your branded address directly through Shopify.
Once you have a suitable domain name, it's time to shop for the best price.
Step 2. Carry Out a Price Comparison
Of course, different domain registrars offer different prices. Sometimes the same vanity URL will go for a lower price at a different registrar, so it's always best to shop around. Sites such as TLD List make matters easier by providing a comprehensive comparison of top-level domains: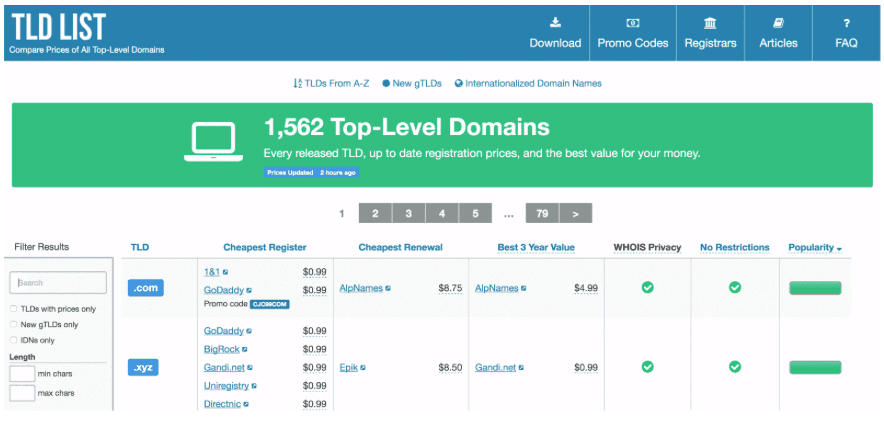 This step will require some mucking in to find the best price, but the savings should outweigh any time you spend researching.
Step 3. Choose and Purchase a Vanity URL
The final step is to make your purchase. If your budget isn't a concern, or you're simply looking for a recommendation, we suggest NameCheap. It's a stellar registrar, with a range of available top-level domains (TLDs) on hand.
Purchasing your chosen domain will likely be the easiest part of the process. If you have your payment details, and if you're used to the online purchasing process, you can buy a domain!

Now that you have a vanity URL in hand, you can begin to consider your marketing.
How to Integrate a Vanity URL into Your Marketing Strategy
When it comes to integrating vanity URLs into your marketing strategy, they're essentially useful for honing in on certain aspects of your business you'd like to promote. Refer back to the brewery example above. The URL beercompanybrewery.com is a vanity URL for the regular URL on the site, beercompany.com/brewery.
Say your beer company also had an additional brewery location on the south side of town. Rather than direct visitors to beercompanybrewery.com/southside, you could send them to beercompanysouthsidebrewery.com. Not only would you have another great vanity URL, you'd also be adhering to SEO best practices, which is always a bonus.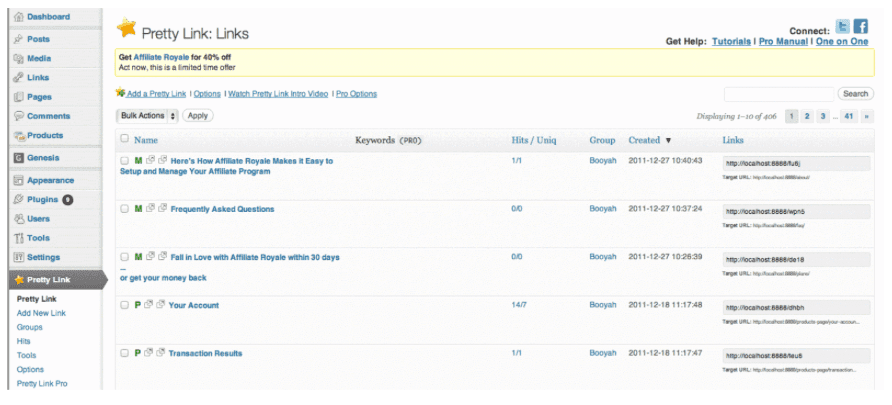 Finally, there's Pretty Links. This is a WordPress plugin that – unlike other link shorteners – leaves your custom vanity URL branding intact. It also offers a bevy of other features, including:
Powerful social sharing

Automated page and post short link creation

Server-side 301 permanent redirects (essential for implementing vanity URLs)

Click tracking and related analytics
It's an easy to use plugin that can help you implement your vanity URLs correctly, with no impact to your SEO, and enhance the work you've done to implement a strategy.
Conclusion
In this article, we've shown you how to boost your brand power using vanity URLs. Let's quickly recap how to do it:
Choose a suitable, well-considered name.

Carry out a price comparison by shopping around.

Choose and purchase vanity URLs using preferred domain registrars.
You can also leverage the power of Pretty Links to enjoy a host of marketing benefits while still retaining your custom, branded vanity URL.

Do you have any questions about choosing a vanity URL? Let us know in the comments section below!