3 WordPress Contact Form Plugins You Need To Know
There are times when a lead will have a simple question that doesn't warrant a phone call, and that's where WordPress contact form plugins can help save the day. 
A contact form is an age-old tool that allows site visitors to type in a message that is then sent to you. WordPress doesn't automatically come with a contact form option, so you're left to either code one manually or download a plugin. 
Some contact forms are simple, only collecting your name, email, and a message. Others can help qualify leads with more complex questioning, like company size or industry. The more complex your form, the more likely you are to weed out frivolous messages (though you're also likely to lower your conversion rates).
If you're having trouble choosing from among the thousands of available plugins out there, we've got you covered. In this blog post, we've compiled a short list of our three favorite contact forms, and you should be able to identify one that covers your needs. Let's get started.
Why Use a WordPress Contact Form Plugin?
Who wants to bother with coding their own form? There's simply no need. WordPress makes connecting with site visitors simple, and there's no end to plugins and shortcodes available to get the job done.
If you look hard enough, you can find the exact solution that will gather the information that qualifies your leads. For every type of messaging system available, there are thousands of plugins to choose from to get the job done!
How to Choose the Right Plugin
Before you choose a contact form plugin, ask yourself a few questions. Are you looking for full-fledged forms that instantly qualify your leads? Do you need to know things like company size, years of operation, and other kinds of in-depth information?
Or would a simple solution with contact info and a message field serve your purposes? While there's a solution available for every scenario, the three following plugins cover the best features and require zero coding skills.
WPForms  
WPForms is the perfect beginner-friendly contact form plugin. This powerful plugin covers a variety of field options, integrations, and easy-to-learn design features. If you don't have the time (or the need) to build your own forms, WPForms offers template-based options and includes countless integration options. 
It even has an instant notification feature so you can respond to inquiries as soon as possible. This plugin is designed to boost conversions at every angle.
Top Features:
Templates
Drag-and-drop interface
Complex form options
Built-in smart CAPTCHA and honeypot
Surveys
Donation forms
WPForms allows you to tackle a huge variety of form types, design options, and lead outreach. And, in our opinion, it beats out thousands of contact form plugins with all its robust features.
Formidable Forms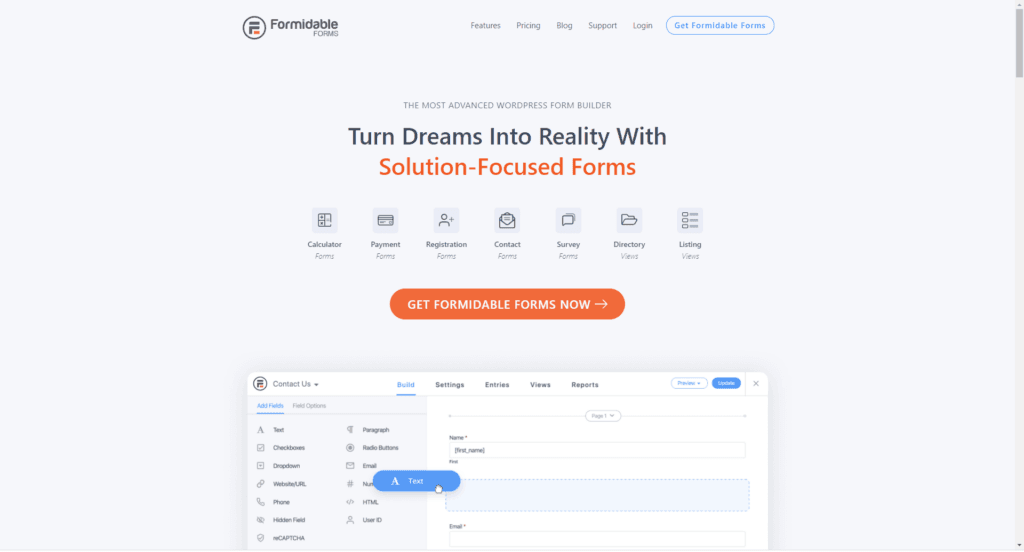 When you install Formidable Forms, you're installing a simple-to-use powerhouse. This plugin is a common favorite among WordPress users.
Top Features:
Calculated fields
Drag-and-drop editor
Unlimited forms for paid plans
Customizable fields for visitors
Smart forms (conditional logic)
18 add-ons including payment, language, and mailing list tools
Formidable Forms offers a robust set of features and add-ons that would get anyone's point across.
Gravity Forms
When it comes to options, Gravity Forms offers a huge array that are easy to master. You can use its premium features on one site for the lowest price or on unlimited sites at the highest.
This plugin offers advanced fields that cover more of your lead qualification needs, such as appointment forms, file uploads, and impressive third-party integrations (including Hubspot and Stripe). Gravity Forms also offers add-ons to cover anything the premium version might've missed.
Top Features:
Multi-page forms
Entry limits
Radio buttons
Paragraph fields
Dropdown boxes
Surveys
Quizzes
Gravity Forms is best for users with multiple sites, especially at the price tag. If you can make use of the license, it will prove to be an invaluable conversion resource.
Conclusion
The three contact form plugins above are just a few options in a sea of plugins, but they're our favorites. Giving your leads an easy way to contact you is essential for higher conversions, so go over the features and pick the best fit for your business needs.
Your contact form will likely be the most critical point of contact you can add to your site. So take care to pick a solution that will make reaching out to you simple and straightforward.
Do you have your own favorite contact form? What do you ask your leads to provide when they contact you? Let us know in the comments!
If you liked this article, be sure to follow us on Facebook, Twitter, and LinkedIn! And don't forget to subscribe to our newsletter.