SMS and MMS: Which Is Best For Your Business?
An effective way to communicate with your clients and keep them in the loop is through the use of Short Messaging Service (SMS) and Multimedia Messaging Service (MMS). However, if you're just getting started with text message marketing, you may be unsure which of the two options would be more beneficial for your business.
SMS and MMS messaging enable you to reach customers directly with your latest news and promotions, therefore helping you generate more sales. By gaining a better understanding of these two options, you'll be in a solid position to choose the best solution for your company and your audience.
In this article, we take a closer look at SMS and MMS messaging, focusing on the key advantages of each. Then we'll explain how to use the two messaging options effectively for your business. Let's get started!
SMS Messaging and Its Advantages
Short Messaging Service (SMS) is a short text sent to mobile devices, with each message restricted to 160 characters. The first SMS was sent in 1992, and it has since become one most widely used forms of communication. In a survey by SimpleTexting, 68% of respondents said checking and sending text messages is the main activity they carry out on their phones.
SMS messaging can also be a powerful marketing tool. When consumers share their mobile phone numbers with companies, they are giving permission to contact them via text messaging. Since the majority of people check their messages on an hourly basis, they are unlikely to miss any updates sent by businesses. Therefore, many marketers use SMS messaging to send important notices to their clients.

There are several advantages of SMS messaging. Texts are short, therefore they're very digestible. Indeed, recipients may not even need to open the SMS to read the full text. If the message is short enough, they can just consume it at a glance when it pops up on their screens. Thus, for many marketers, sending an SMS is a sure way of getting their messages across.
Moreover, SMS messaging doesn't require a lot of bandwidth, which makes it an affordable marketing strategy. It also enables you to include links within the text, so you can direct customers to a page on your site.
Sending short texts is an effective way of informing customers about a new product or promotion. You can also use SMS messaging to send quick reminders or delivery updates.
MMS Messaging and Its Advantages
Multimedia Messaging Service (MMS) enables mobile phone users to send messages that contain text along with media, including images, videos, and audio clips. Each MMS has a character limit of 1600, allowing for longer messages. However, it's important to note that MMS costs more than SMS since more data is being transmitted.
While MMS messaging can be a bit pricey, it also comes with a lot of benefits for marketers. For instance, you can grab your audience's attention more easily thanks to videos and photos. This can be most effective when you want to give them a glimpse of your new product.
You can also personalize your texts with branded content such as logos, or add a bit of humor with the use of animated images. A funny cat clip can put a smile on your clients' faces, making your message more memorable: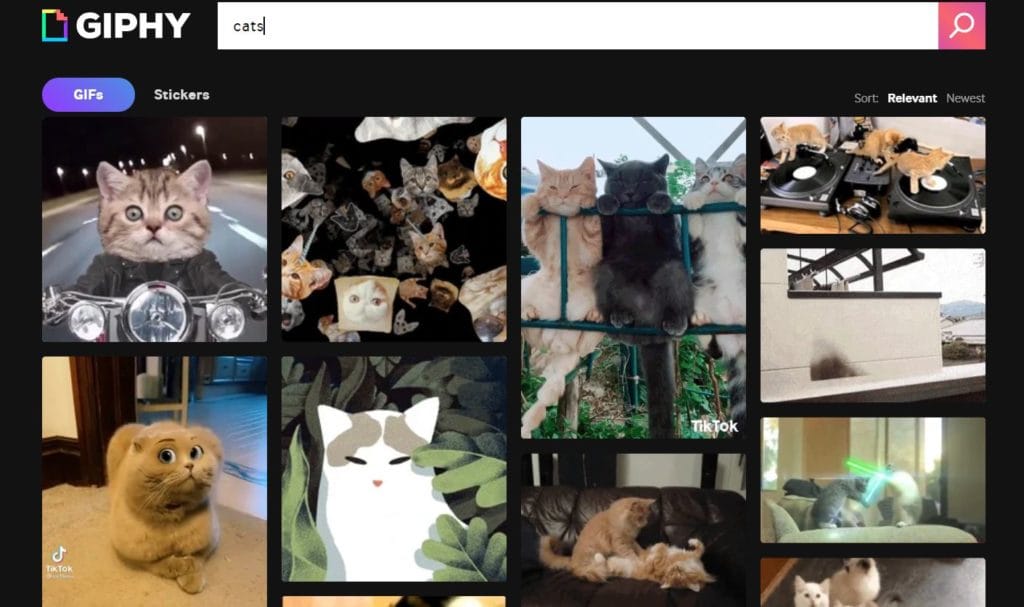 Although not all phones support MMS texts, this type of messaging can still offer more accessibility than SMS. For instance, sending audio clips can help you reach people with visual impairments. You may also want to use videos instead of text to make your message accessible to individuals with reading difficulties.
How to Use SMS and MMS Effectively
Given that text messaging has a high open-rate, it might be a good idea to implement it in your marketing strategy. Let's look at how to get started.
1. Choose Your Texting Option
You may want to start by selecting a texting option for your business. This will heavily depend on your budget, your campaign goal, and the number of customers who are subscribed to your text messaging service.
If you have a small budget and a large audience, you may want to opt for SMS messaging. This is also a good option if you just want to send quick messages about offers and promotions.
Meanwhile, if you want customers to check out your latest product, you may want to consider using MMS messaging for photos and videos. Although this option can be a bit costly, it can help you generate better conversions.
2. Find the Right Messaging Software
The next step is to find a messaging service. There are several things you may want to look at when choosing your text messaging software, including ease of use and affordability. You may also want to select a service that allows two-way messaging so that you can converse with your clients to offer them a more personalized experience.
TextMagic offers a bulk SMS service for businesses. It's very user-friendly and is ideal for sending alerts and reminders. It also allows two-way SMS chat.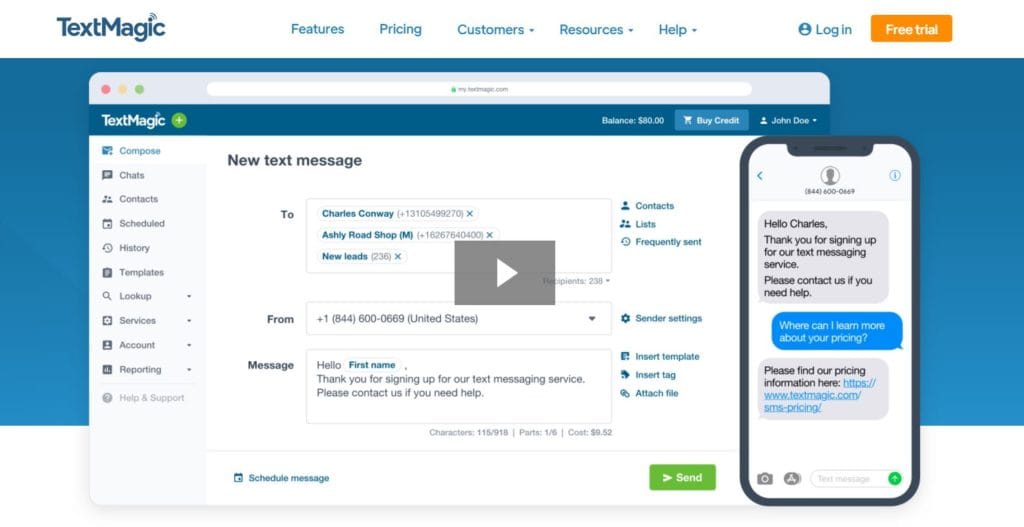 Another option worth exploring is SlickText. This text marketing service helps businesses in various industries reach out to clients with impactful SMS and MMS messages.
3. Use a Link Shortening Service
Finally, if you're planning to include links in your text messages, it's a good idea to use a link shortener. With SMS, you can only send bite-sized texts. Thus, you may be unable to fit long product links into your messages.
Short links can make your messages look neat and professional. Our Pretty Links plugin lets you generate short, branded links to your pages: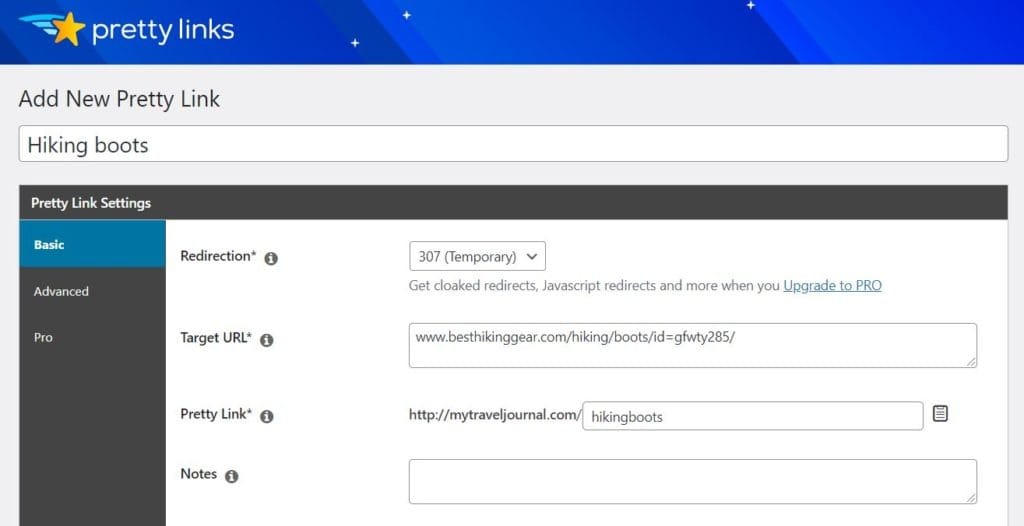 Our plugin also lets you track the performance of your links. Therefore, you can use different links in your MMS and SMS marketing campaigns and analyze their conversions. This will help you find out which texting option is producing the best results for your business.
Conclusion
Text message marketing is an effective way to reach out to your clients with your latest news and offers. SMS is perfect for sending quick texts, such as reminders and promotion codes. Meanwhile, MMS enables you to personalize your messages with images and videos, so this option is more ideal for advertising a new product or service.
When choosing between SMS or MMS, it's important to consider your budget, audience size, and marketing goals. SMS messaging is cheap, but it can help you reach a wider audience. MMS messaging can be a bit expensive, but it's more likely to grab your clients' attention and can therefore help you yield better results.
Do you have any questions about using SMS and MMS messaging for your business? Let us know in the comments section below!
If you liked this article, be sure to follow us on Facebook, Twitter, and LinkedIn! And don't forget to subscribe in the box below.
About John Hughes
John is a blogging addict, WordPress fanatic, and staff writer.