5 Questions and Answers About WordPress 5.0
WordPress is used to power almost a third of all websites on the net. This means it's used by millions of people on a daily basis, in order to create content. However, the way this is done is soon going to change considerably, as the platform is about to experience a radical shift in its editing interface.
With the launch of WordPress 5.0, the platform is introducing a brand-new editor, commonly referred to as Gutenberg. The goal with this update is to make content creation more intuitive and to better compete with other website builders (such as Wix and Squarespace). Gutenberg aims to provide a more modern editing experience for the platform and offer you more options for designing your content.
To help you prepare, we're going to answer five of the most common and pressing questions regarding the upcoming version of WordPress. We'll also introduce you to the new Gutenberg editor, and explain how it's likely to affect you. Let's get started!
1. What's New in WordPress 5.0?
WordPress 5.0 is an upcoming major update to WordPress. It also represents arguably the most radical change to the platform since its beginnings in 2003. This is largely due to the introduction of a new editing interface called Gutenberg. We'll take a closer look at this interface in a moment.
While Gutenberg is the biggest and most prominent new feature in 5.0, however, it's not the only addition. The update will also introduce a new default theme, called Twenty Nineteen: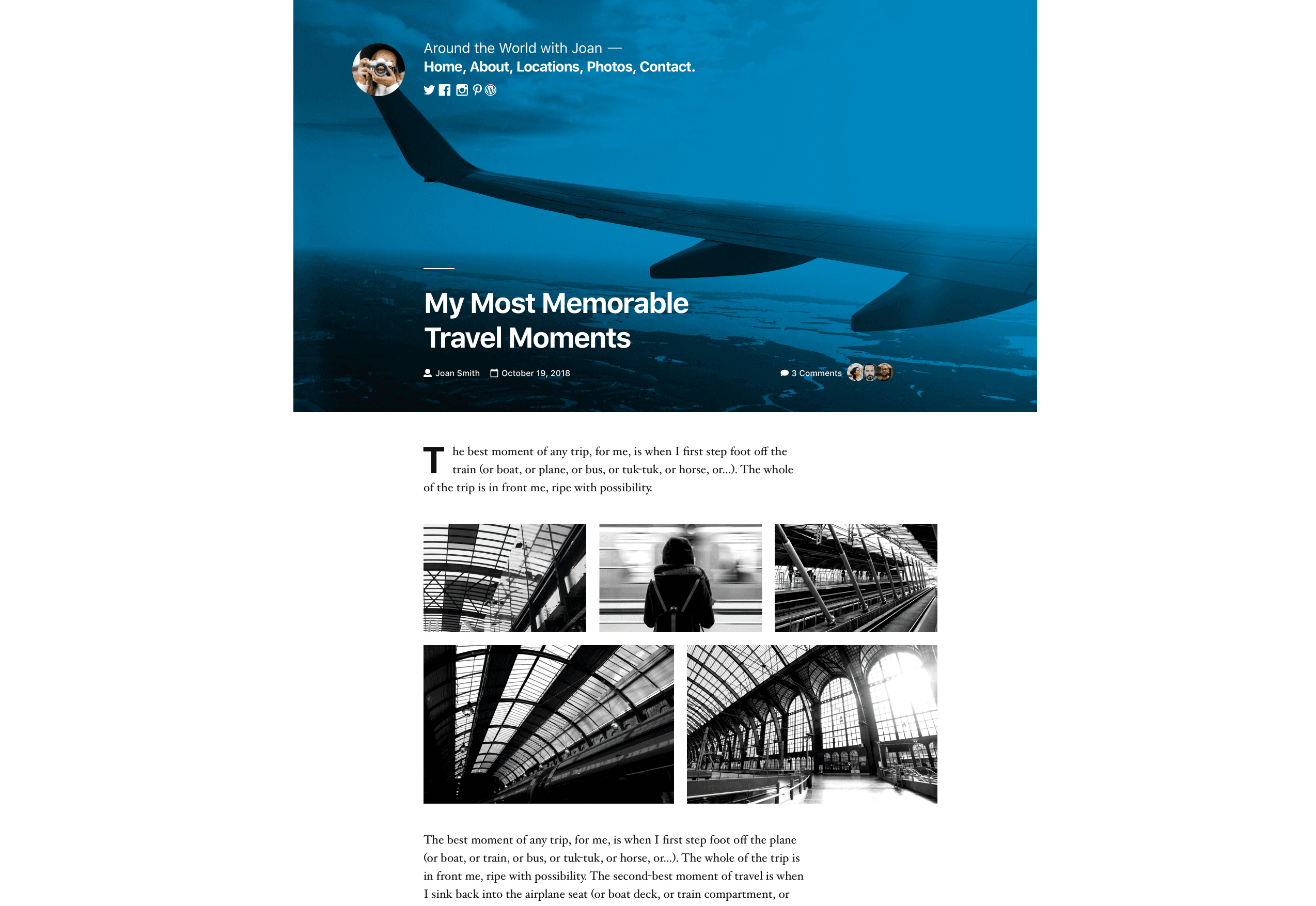 This stylish new theme has been designed specifically with Gutenberg in mind. As such, it's built to be compatible with many of the new editor's features.
In addition, WordPress 5.0 will introduce full compatibility with PHP 7.3. PHP is one of the programming languages WordPress is built on, and 7.3 is the latest version. This compatibility update adds enhanced security and performance to the core platform, which is good news for everyone.
2. What Is the Gutenberg Editor?
While the new theme and updated PHP compatibility are key additions in WordPress 5.0, the Gutenberg editor is what's been getting the most attention. To explain what a significant change it represents, let's start by looking at the classic interface: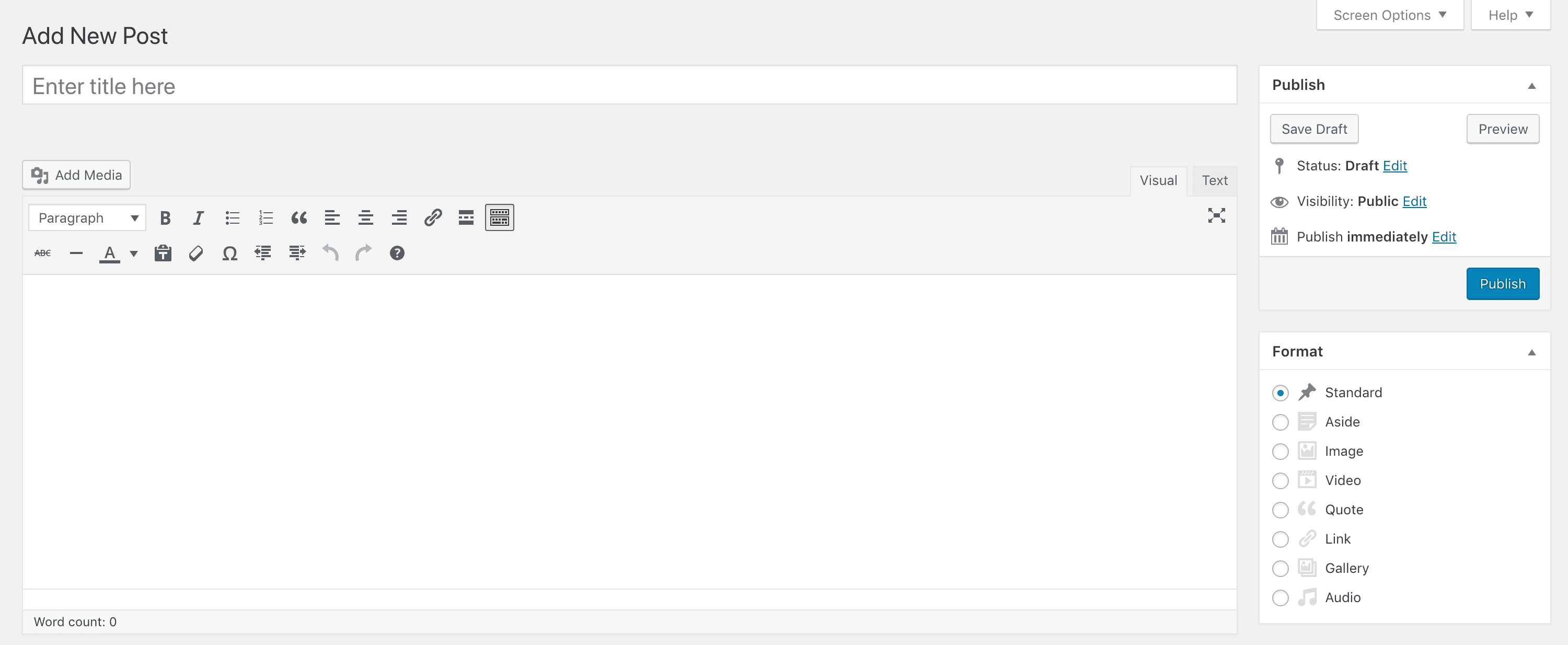 This is the TinyMCE-based editor that you and millions of others have used to create pages and posts in WordPress for years. It works much like a word processing application, with a toolbar above the main editing area, and meta boxes containing additional options to the right and below.
The new Gutenberg editor, on the other hand, is a stark contrast:
As you can see, this editor is considerably more sparse at first glance. This is because one of its goals is to remove as much clutter and distraction as possible. Customization options and settings appear dynamically, depending on the type of content you're editing at the moment, so you only ever see exactly what you need.
The Gutenberg editor also employs a What You See Is What You Get (WYSIWYG) interface. This means that how your content appears in the editor mirrors the way it will look on your site. This eliminates the need to constantly preview new posts and pages on the front end of your site, saving you valuable time.
3. What Is a Gutenberg 'Block'?
The most important thing to understand about Gutenberg is that it's a drag-and-drop system based around 'blocks'. A block is simply a piece of content that you add to a post or page. A paragraph of text is one block, while an image is another:
This setup has a number of interesting consequences. For one, it makes it much easier to move content around, as you can simply place blocks wherever you want them to appear (and organize them at will). As we mentioned earlier, this also means that you only see the options related to the type of block you're currently editing, which helps to keep the editing interface clean:
There are dozens of default blocks included, and you can also download and install new options. This enables you to build content using a wide variety of features, without the need to use shortcodes or code snippets.
What's more, the stated long-term goal is for blocks to replace many other existing elements in WordPress, such as menus and widgets. Eventually, just about your entire website will be built using blocks.
4. When Will WordPress 5.0 Be Released?
At the time of this writing, there's a release candidate version of WordPress 5.0 out. The final launch, however, has already been pushed back a few times. While the original goal was to meet a release date in November 2018, many developers and contributors have called for 5.0 to be delayed. They've cited issues with accessibility, for example, and a large number of existing bugs.
Right now, it's not possible to say exactly when the update will be made live. However, it's expected to arrive sometime in December 2018 or January 2019. For more up-to-date information, you can check out the WordPress 5.0 Development Cycle page.
5. How Can I Prepare for WordPress 5.0's Arrival?
If you want to get ahead of the curve, you can actually try out both WordPress 5.0 and the Gutenberg editor right now. However, before you do so, it's important to emphasize that these updates are still in development, and as such you should avoid experimenting with them on a live site. Doing so could cause unexpected issues, and even lost content.
To give Gutenberg a spin, you can simply download and install the beta plugin:

However, if you want to try the full WordPress 5.0 experience, you'll need to install the latest release candidate on a testing site. This gives you ample time to get used to the editor and the new theme. If you come across any issues, you can even help out the development team by posting about it in the Alpha/Beta/RC forum. This will help WordPress developers identify and fix as many bugs as possible before the new version goes live.
Conclusion
WordPress 5.0 is going to change the platform forever. While millions of users have grown accustomed to the platform's current editing interface, it will soon be replaced by a brand-new WYSIWYG editor known as Gutenberg.
In this article, we've answered five of the most pressing questions about WordPress 5.0 and Gutenberg. We've discussed how this new editor uses 'blocks', and looked at the brand-new Twenty Nineteen theme, as well as the addition of PHP 7.3 compatibility. WordPress 5.0 is still set to release in the next few months, and we'd suggest keeping your eye on the Make WordPress website for the latest updates.
What are your thoughts on WordPress 5.0 and how it will affect the future of the platform? Let us know in the comments section below!
If you liked this article, be sure to follow us on Facebook, Twitter, and LinkedIn! And don't forget to subscribe to our newsletter.
3 Comments
Margaret Makewell

December 7, 2018

Can't wait - I have got myself in so many pickles trying to work out WordPress speak and end up just leaving posts unpublished or just unsatisfied with the appearance of the site. Gutenberg will be a welcome change.

Tom Nunamaker

December 8, 2018

Will the old editor still be available? Can the source code be edited with the new editor?
Paul C

December 27, 2018

The old editor will be available for any Custom Post Types that don't declare Gutenberg support. You can also install the Classic Editor plugin to revert posts and pages to the old editor as well. Gutenberg does have a legacy text block as well which has the older WYSIWYG buttons.