Where to Find and Install Add-ons
All add-ons can be found, installed, and automatically activated on the Add-ons page of Pretty Links.
To find this, please navigate to Wp-Admin -> Pretty Links -> Add-ons.
The page is also shown here: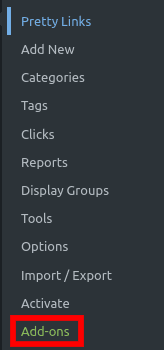 Still Have Questions?
We'd be happy to help with any questions you may have! Just contact us through our support page, and we'll do our very best to help you out.
How did you like this article?
0
0
0
0