4 Ways to Increase the Value of Your Links
Links play an integral role in online marketing. They can be used to boost Search Engine Optimization (SEO), generate leads, and drive conversions. Unfortunately, it can be all too easy to fall back on outdated and ultimately ineffective linking methods.
When you have a strong linking strategy, each link you use can be an opportunity to grow your business. Everything from how you structure your URLs to the tools you use to monitor them can help increase the value of your links.
In this post, we'll discuss the importance of having a linking strategy for your business' marketing efforts. Then we'll provide four techniques you can use to create more effective links. Let's get started!
The Importance of Link Optimization
As a marketer or business owner, you're probably familiar with the practice of link building. In a nutshell, it's the process of getting external links or 'backlinks' pointing back to your site. Ideally, the result is improved search engine rankings.
External links are only one factor that Google takes into account, however. Other techniques, such as internal links, play an important part in the performance of your site as well as its User Experience (UX).
A proper link optimization strategy can make it easier for visitors to navigate your site, reduce bounce rates, and even increase Click-Through Rates (CTRs) and conversions. Additionally, the way your links are structured and formatted can influence trust and, in turn, engagement.
Simply put, your links can add a lot of value to your content and online marketing efforts. The key lies in knowing how to create and use them effectively.
4 Ways to Increase the Value of Your Links
At this point, it should be clear that your linking practices are worth careful consideration. Let's take a look at four ways you can increase the value of your links.
1. Choose a Consistent Link Structure
A permalink is a unique, permanent URL created for your WordPress pages and posts. The 'slug' is part of that permalink. It's the piece of the URL that comes after the domain:
Links signal the relationship between various pieces of content, and help communicate what each page is about to both customers and search engines. Therefore, an organized, clean, and consistent link structure makes it easier to find your site, and can lead to more clicks and conversions.
There are three main types of permalinks:
Ugly: The default structure in WordPress that uses each post's ID number (www.domainname.com/?=3859)
Almost Pretty: Also known as PATHINFO (www.example.com/index.php/2019/12/22/post-name/)
Pretty: The recommended type, which includes different variations but generally looks simple and clean (www.example.com/2019/post-name/)
You can choose between common permalink structures (post name, month and name, etc.) or create a custom structure. The important thing is to make sure your URLs are consistent.
To change your permalink settings in WordPress, you can go to Settings > Permalink Settings: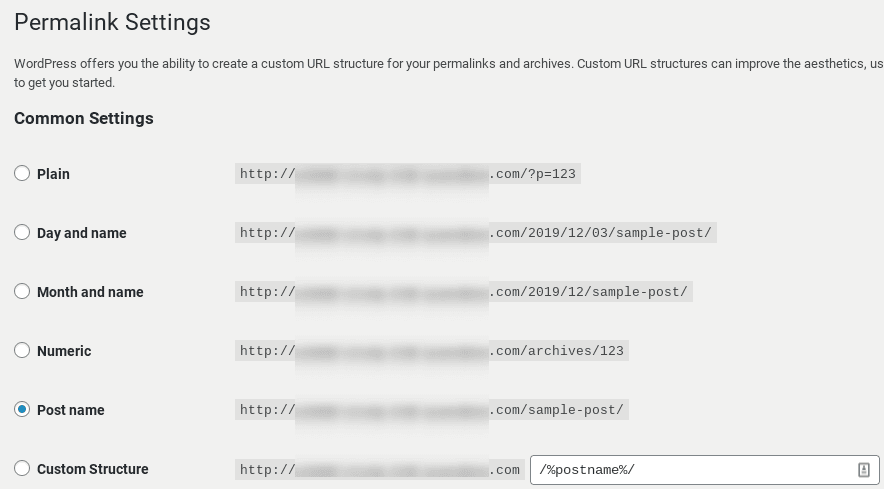 Once you update your permalink settings, you might be concerned about the pages and posts that still use your site's previous URL structure. Trying to manually update those links can break the pages in question.
Therefore, it's a good idea to permanently redirect your links using our Pretty Links plugin:
This tool includes a link redirection feature. You can learn more about 301 Redirects and how to create a redirect link through our online tutorials.
2. Incorporate Keywords into Your URLs
As we mentioned earlier, search engine bots use your URLs to crawl and index your site. Your permalinks, and more specifically your slugs, inform bots and visitors about what each page contains. Therefore, it makes sense to incorporate keywords in your URLs for better SEO.
The best practice is to aim for long-tail keywords. This is because they are informative, specific, and generally less competitive than other types of keywords.
One strategy is to simplify the name of your post title as the URL slug. For example, if you have a blog post called "How to Create a Gingerbread House From Scratch", the URL might be something like www.domainname.com/create-gingerbread-house.
It's always a smart idea to do a bit of research to brainstorm potential keywords. We recommend using a keyword research tool such as Moz:
You can use this site to explore keywords and find long-tail alternatives. Ideally, you want to look for keywords that are low in competition but high in search volume.
3. Monitor Your Website for Broken Links
We could dedicate this entire post to discussing how to create more valuable links. However, we'd be remiss not to mention the importance of checking on the ones you already have.
The longer your website has been around, and the more content that gets added and changed on it, the higher the chance is that some pages will get moved or deleted. This means links pointing to those pages will become broken, and can send visitors to 404 error pages.
In addition to contributing to bounce rates, broken links can negatively impact your SEO. That's why you may want to consider using a plugin such as WordPress Broken Link Checker:

Once you install and activate this plugin, it will alert you of any broken links on your site. Then you'll be able to quickly resolve them before it hurts your online reputation.
4. Use Relevant and Diversified Anchor Text
Anchor text is the clickable text in a hyperlink. It's what users select to visit the page that the link is pointing to:
It's essential that the anchor text you use is relevant, both to the content it appears in and the page it links out to. There are different types of anchor text that you can use, and familiarizing yourself with each option is highly recommended.
However, a best practice is to use a combination of the available types. For example, Serpstat suggests a 'golden formula' of anchor text distribution. This largely involves using a combination of 'naked links' (when the anchor text is the link itself) and 'branded anchor text'.
Branding links is the practice of incorporating your brand's name into your links' URLs, which you can do with our Pretty Links plugin. The result is clean, concise, and optimized URLs. Plus, even if you use a naked link as anchor text, it will still incorporate your branded keyword.
Conclusion
Whether your goal is to generate new leads, increase conversions, or boost your SEO rankings, your links are an important factor. The keywords you include, where you place your URLs, and how you format and structure them can mean the difference between your links hurting or helping you.
In this article, we discussed four ways you can increase the value of your links:
Choose a consistent link structure.
Incorporate keywords into your URLs.
Monitor your website for broken links.
Use relevant and diversified anchor text.
Do you have any questions about increasing the value of your links? Let us know in the comments section below!