How to Write Quality Content for Your Website (5 Key Tips)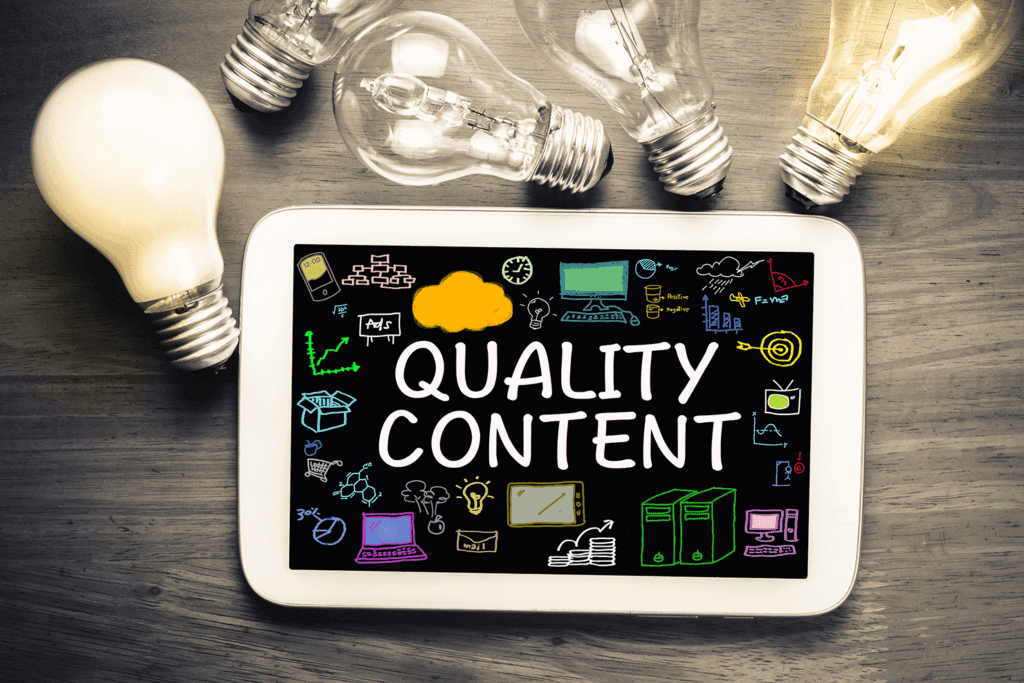 Content marketing is a big deal these days. It seems like every company with a website also has a blog, and for good reason. Quality posts can help you improve engagement and boost Search Engine Optimization (SEO). However, creating content that is original and thought-provoking can be a daunting task.
With that in mind, we've compiled some key tips to help you ensure that your content meets a higher standard. Writing authentic, easy-to-read posts that provide true value for your target audience can be a powerful strategy for helping your website (and brand) succeed.
In this article, we'll discuss the importance of providing quality content as a part of your marketing strategy. We'll then explore several strategies for creating excellent content that speaks to your audience. Let's get to it!
The Importance of Quality Content as a Part of Your Marketing Strategy
Content marketing involves the creation and sharing of online material, such as blogs, videos, and social media posts. This content ideally provides value for your target audience, and is often instructional in nature. In other words, it answers questions your readers commonly have.
This form of marketing is a customer-centric approach that can be very effective at building a base for your business. When you provide information your users want to know, you're able to generate appreciation that then becomes customer loyalty.
Quality content can also build trust and generate more leads. It helps to create an ecosystem of information, guidance, and human connection, as well as establishing your brand as a trusted authority. In other words, it can be the way you take your online presence to the next level.
How to Write Quality Content for Your Website (5 Key Tips)
Creating content that your audience likes can be tricky. The internet is filled with blogs and social media posts competing for their attention. The following tips will help you connect with your customers and form lasting relationships with your target audience.
1. Be Original
Content that is too much like other pre-existing content generally does not rank well in search engines. If your ideas are not new, people will be less likely to share and link to them.
This does not mean you need to reinvent the wheel every time you write a blog post. However, it does mean you need to have something a little different to say, or a way to put a new spin on an old topic.
If you're not sure how to do this, you can consider starting with the Skyscraper Technique. This method involves finding a piece of content that ranks well for a keyword you want to target, and creating something on the same topic that outshines it.
For example, you could create a post that's longer, more comprehensive, and so on. This means you don't have to come up with an entirely new topic, but can instead put together something that provides more value than anything else out there.
2. Provide Real-World Solutions
A lot of the time, people find content because they are searching for a solution to a problem. Think about the kinds of queries you type into a search engine. Often, they are questions you are looking for answers to.
For example, you might go to Google and search for "How do I create quality content?":

When you hit Enter, you're expecting a listing of posts that will answer that question. If one of your own pages has the highest-ranked content related to this search, the searcher may click on it and be directed to your site, where they can become a lead for your business.
People are often online because they want answers, and they want them fast. Keep that in mind when writing your posts, and be sure to back up your solutions and claims with supporting information. That will go a long way towards helping you create top-notch content.
3. Meet Audience Expectations
In order to create content that resonates with your target audience, you need to know who they are. You may have a pretty good idea about who might be interested in your products and services already. All that's left is to consider what kinds of content they would be interested in, and provide it for them.
Even if you have a general idea about your target audience, it can help to do some research at this stage. Consider the following questions:
Who am I writing this content for?
Who can relate to my content?
Where is my audience located?
Which age group will find my content interesting?
What social media platforms do they use?
Writing the kind of content your target audience want to read is not always easy. However, the more you learn about them, the better your chances of attracting their attention will be.
4. Make It Easy to Read
People expect web content to be easy to read. In fact, studies have shown that people rarely read anything online word for word, which is why making your content scannable is so important.
Many blogs use plain language so their information can be followed the first time it's read. It's a good idea to make your content 'conversational', with a more informal tone that draws the reader in and doesn't make them work too hard to grasp your key points.
Other ways to make your posts more readable include using short paragraphs and friendly language. In addition, don't forget to use plenty of subheadings to help to make your content more scannable, and provide it with a clear structure.
5. Link to Other Sources of Information
Last but not least, another thing you can do to improve the quality of your content is to link to external sources. This is a simple way to provide additional value for your audience.
While writing a post, you may come across other helpful articles with further advice and information related to the topic you're focusing on. By linking to these posts in the body of your text, you can improve the credibility of your content, and avoid having to explain concepts that are covered in-depth elsewhere.
To get the most out of this strategy, it's vital to only link to high-quality content. That means you'll want to read over each potential link yourself, and evaluate whether it's well-written, up-to-date, and valuable to your audience.
Conclusion
Creating content that speaks to your target audience is no easy task, but it's well worth the effort. Quality content that is original and provides real-world solutions can cultivate customer loyalty and build brand authority.
Here are five key tips to help you make top-notch content that speaks to your readers:
Create original content.
Provide real-world solutions.
Meet audience expectations.
Make it easy to read.
Link to other sources of information.
Do you have any questions about writing quality content for your website? Ask away in the comments section below!