How to Use a Deep Linking Strategy Effectively
Links are an excellent tool – both on your site and off – that enable you to promote your content and reach your audience. However, there's so much more to linking than just providing your visitors with a URL. Given this, you may not be using links as effectively as you could be.
'Deep linking' is a strategy that can boost visitor engagement and drive traffic numbers. It can also bolster your search engine rankings and your site's quality by improving your link authority.
In this post, we'll introduce you to deep linking and its benefits. We'll then highlight three ways to use a deep linking strategy most effectively, before explaining how Pretty Links can help enhance your overall workflow. Let's get started!
What Deep Linking Is (And Why You Should Use It)
Deep linking basically means linking to a specific piece of content on a website that isn't the home page. Quite often, business will link to a dedicated landing page for a specific product or service. There are a number of benefits to this strategy. For example, it can:
Overall, deep linking can supplement your marketing efforts. This enables you to grow your audience and increase brand awareness.
How to Use a Deep Linking Strategy Effectively (3 Tips)
As a useful marketing tool, deep linking simply cannot be overlooked. Fortunately, we've got three tips for you so you can begin using it immediately. Let's dive in!
1. Use Deep Linking Within Social Media Campaigns
Social media campaigns are a popular way to drive website traffic and increase brand awareness. Adding deep linking to your campaign can further improve your results. Here are two tips to get you started:
Know your users and link accordingly. With user demographics, you can link to pages your followers are most likely to find valuable.
Use a link shortening tool, such as Pretty Links. This will take the place of anchor text (which you can't use on social media) and help with character limits.
Unfortunately, many major social media platforms place limitations on links (such as automatically making them nofollow). However, deep linking is one way to get the most from these platforms.
2. Add Deep Links to Your Email Newsletters and Communications
Your email communications are another great marketing resource, but they require proper optimization. Deep linking is one optimization technique, as it can offer more relevant content and higher rates of conversion.
However, optimizing your communications isn't as simple as just adding links to your emails. Keep these tips in mind:
Most of all, it's important to use links only where necessary. Link-laden emails don't go over too well. Instead, focus on landing pages and content you really want to promote, and include those links naturally.
3. Incorporate Deep Linking Into Your Guest Posting Strategy
Guest posting is one of the best marketing strategies around, and can attract more targeted traffic and improve brand authority. Adding deep linking can make guest posting even more effective. For example:
Use links sparingly. To have the greatest impact, only use deep links that you know will be the most helpful to readers.
Optimize anchor text. To give readers the best idea of what your links lead to, optimize your anchor text to be descriptive and relevant.
Both of these strategies should be used within the guest post, as well as within the author biography. This will yield you the best results.
How to Improve Your Deep Linking Strategy With Pretty Links

Pretty Links is an all-in-one link shortening plugin. It also offers many other features including link redirection, tracking, and keyword replacement. The plugin helps improve your deep linking strategy by enabling you to create shortened, branded links. It also enables you to track those links so you can optimize how they're used and where they're placed.
To create a link with Pretty Links is simple. Once installed, go to Pretty Links > Add New Link on your WordPress dashboard. Here, you can enter the new link's information (such as Redirection, Target URL, and Pretty Link slug).

Once you click Create, the Pretty Link can be used across the internet. If you want to track how your link is performing, head to Pretty Links > Pretty Links and select an already created link. Open Advanced Options, and enable Tracking.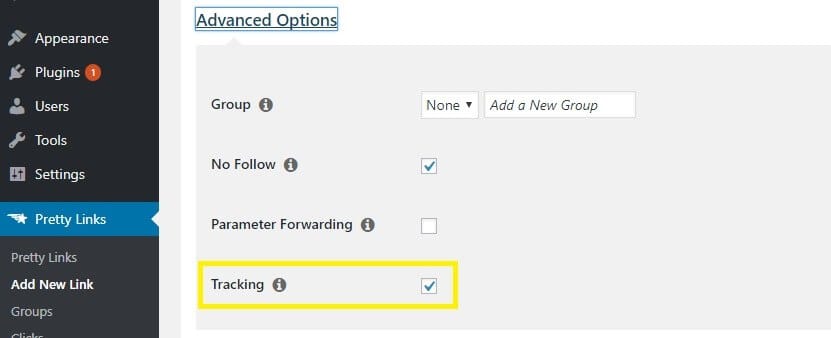 Once your link has generated enough clicks, you can then go to Pretty Links > Reports to analyze its performance (including clicks and conversions).
Conclusion
In a nutshell, using a deep linking strategy can boost your search engine rankings and improve your visitor engagement. These two factors are vital to the online health of your business. More importantly, a deep linking plan is easy to implement for your site.
In this post, we've introduced you to deep linking and its benefits. We've also shown you three ways you can use a deep linking strategy most effectively for your site. To recap:
Use deep linking within social media campaigns.
Add deep links to your email newsletters and communications.
Incorporate deep linking into your guest posting strategy.
Do you have any questions about deep linking, or how Pretty Links can help? Let us know in the comments section below!